This blog post contains sponsored content from WayFair, Dimplex and Little Tikes. All opinions are my own.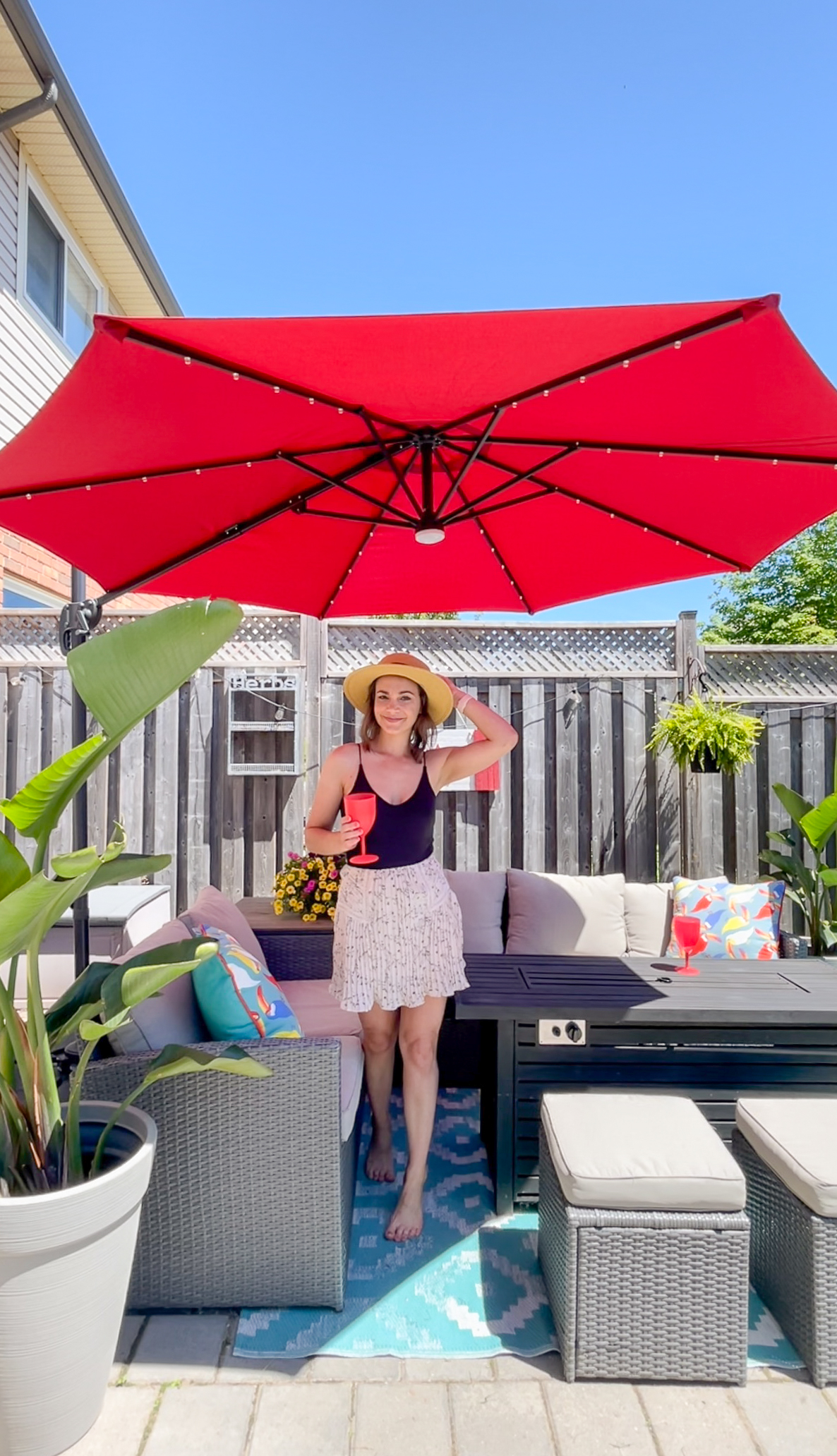 Backyard Makeover | Where to Start
So, you're making over your backyard and are not sure where to start. Starting a project like this, a backyard makeover can be overwhelming. Especially, if you're in the same boat as me and haven't really updated it in the last 5 years. Over the past 5 years, we've let the grass go a little wild over our patio stones, never really invested in a quality umbrella or other items to make the backyard our perfect oasis.
Now that we have our daughter we are looking to revamp our space to not only make it an oasis for my husband and I to relax in but a safe spot for our daughter to play. This includes ample shade and toys to keep her busy so mom and dad can sit for longer than 5 minutes at a time.
Where to Start for Your Backyard Makeover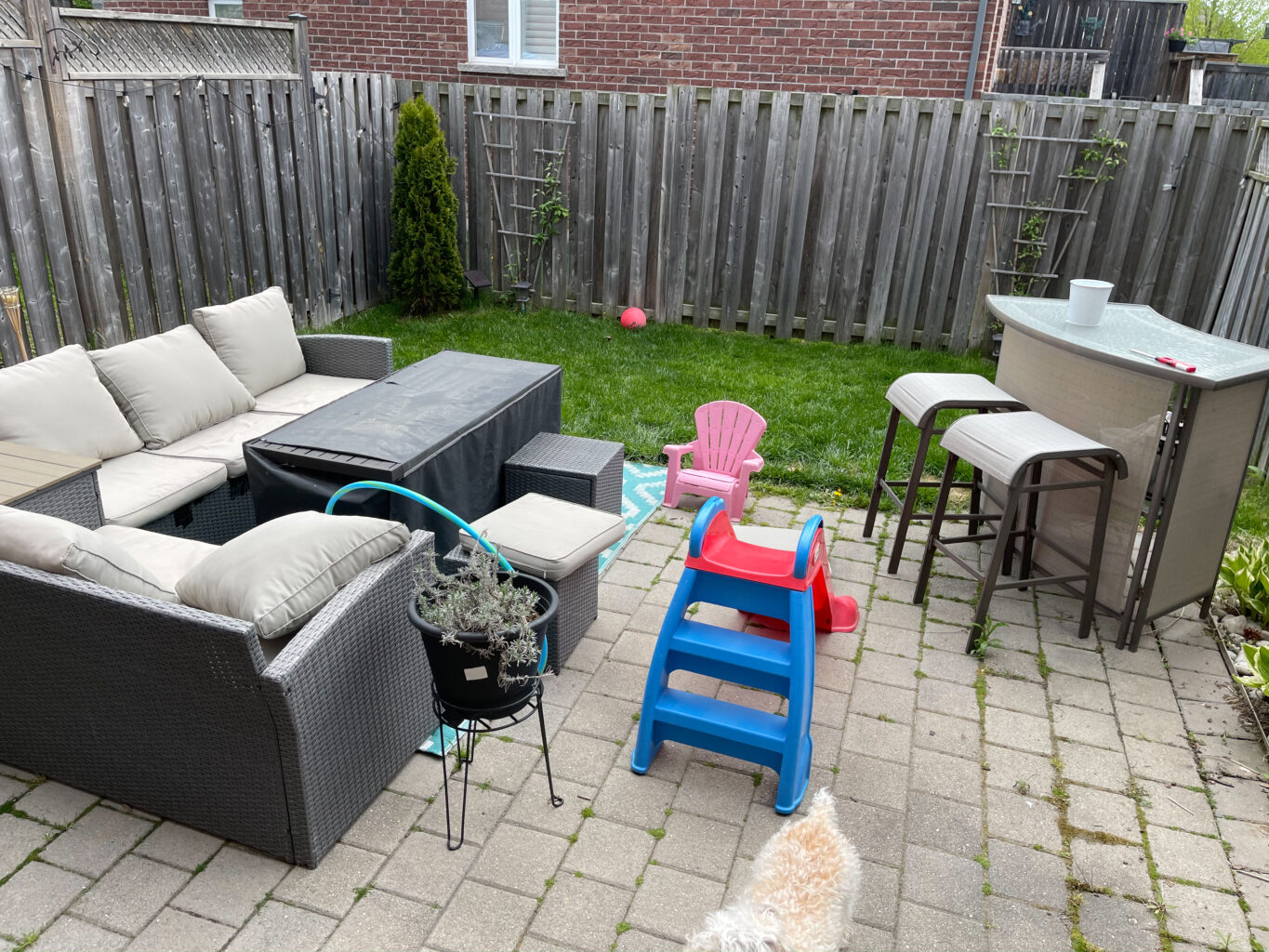 Where to start with your backyard makeover is, Make a List. Make a list of everything you want to be done, every little project that needs to be completed and anything that you may need to purchase.
Nest, take that list and prioritize it from what should/needs to be done first to what can be done later. Here is a glimpse into our list.
Powerwash patio stones
Resand patio stones
Reorganize furniture
Remove/Sell old pieces
Patio Umbrella
Toys (water table, lawn games)
Heater
Clean patio furniture
Step 1: CLEAN
We started our backyard project by removing all the old plants from the year before, broken pots and anything else that we no longer needed back there.
Next, we power washed our patio stones. As mentioned, we had let the grass and weeds overgrow and it was becoming too much. This project was a little harder than I thought because the power washing got quite messy. We moved all the furniture off the patio stones and got to work. Once all the stones were free of grass/weeds we poured on Polymeric Sand that we got at the local hardware store and brushed it in. Next, we took our garden house and sprayed the stones to help harder the sand.
Step 2: ACCESSORIZE
The Perfect Patio Umbrella
Finding the perfect patio umbrella took us quite a bit of time. In the past, we had purchased umbrellas that didn't have the extra support bar (that goes underneath) and quickly learned that this feature is helpful. On winder ways, our past umbrellas would fly side to side, which was not ideal.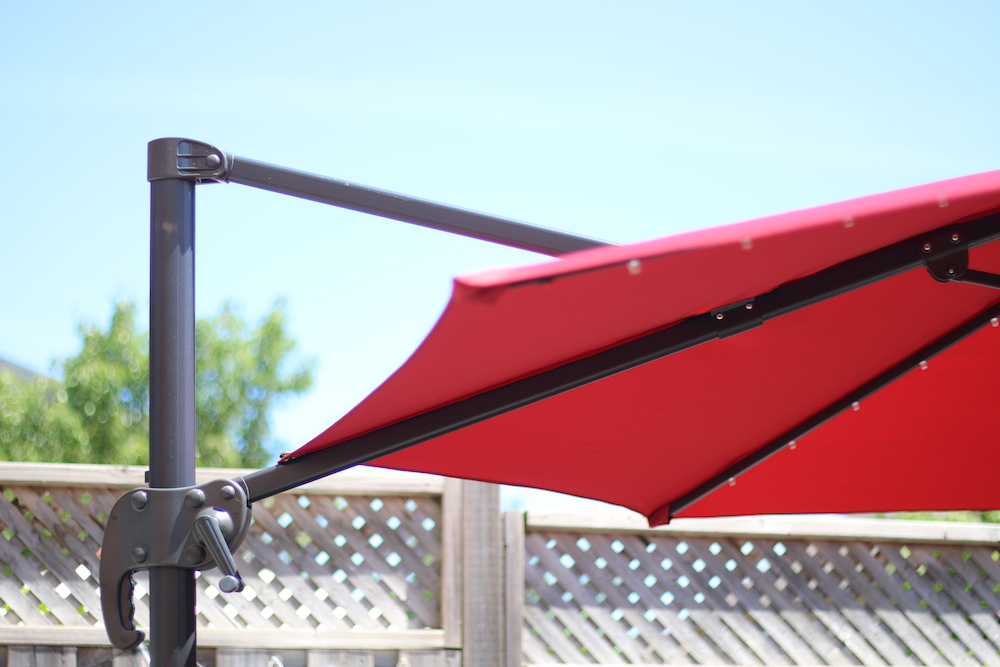 With the help of Wayfair and their amazing filter options, we narrowed our search down to include the features we wanted. We went to their patio umbrella section and narrowed down the search to include, UV protection, rotate, tilt and lighted. The Bonnie Cantilever Umbrella was the winner and we couldn't be happier. The red gives the perfect pop to the backyard and the tilt feature allows us to easily move the umbrella to get shade where we need it.
Add Some Heat
While I know it's summer there are cooler nights where having a heater in your backyard can make all the difference. When planning this makeover we were also thinking of ways to make sure we can extend the use of the space into the fall.
In comes the Dimplex Outdoor/Indoor, Plug-in Play Infrared Heater. What I love about this model is that it's wall-mount Plug-In Infrared Heater which not only makes it super easy to install but it offers three temperature settings and produces full heat in 6 seconds. The remote control makes it easy to use and the on-screen display shows you the temperature setting and timer features. Also, it's weatherproof so you don't need to worry about unexpected rainy days.
Toys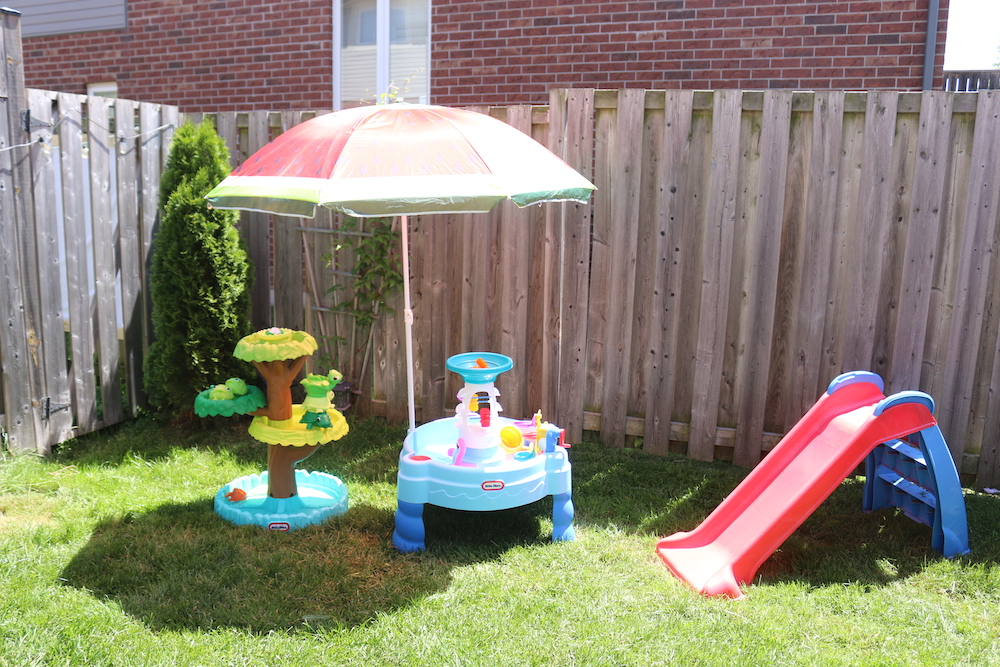 Watch My Building The Spinning Seas Water Table Video
Last but not least, toys. We needed to add some accessories to the backyard that would be entertaining for our daughter. What's better to keep toddlers entertained than water play. We set up two Little Tikes water including the Magic Flower Water Table and The Spinning Seas Water Table. We previously have the kids slide, so we kept that in the backyard as well.
Step 3: ENJOY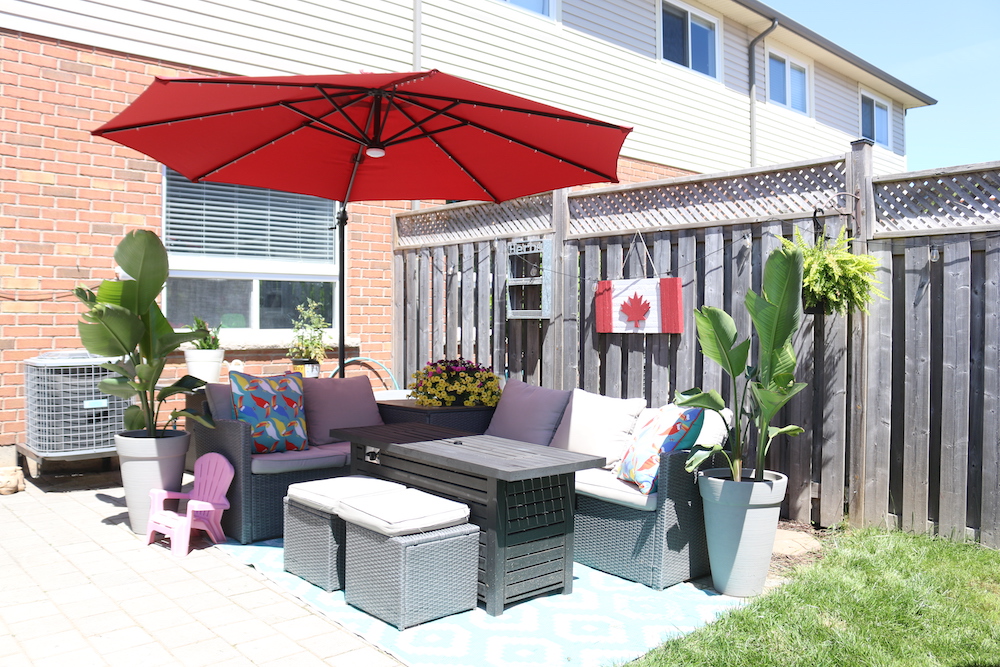 The hard work is done, so what is there left to do? Grab yourself a drink, kick up your feet and enjoy your new perfect oasis! Will you be updating your backyard this summer? What's one backyard feature you can't live without?
Check Out Our Basement Renovation Here