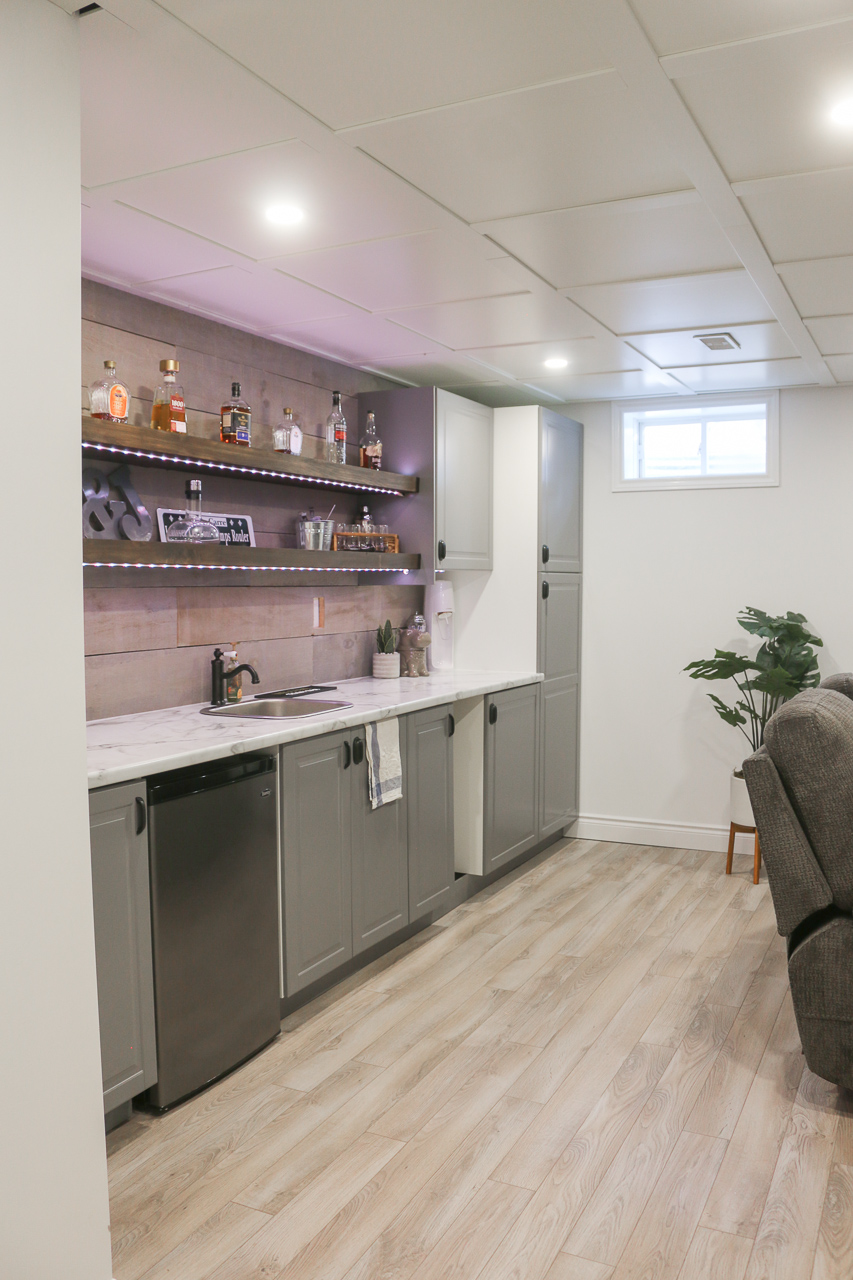 How to Plan a Basement Renovation & How We Designed Ours
When it came to starting our basement renovation Adam and I pretty much already knew what we wanted. Basically, a comfy entertainment area for not only us to enjoy but our friends and family too. The renovation was also a way for us to maximize the space in our house with a new baby. So what were our requirements for our dream basement? Keep reading to find out!
Basement Bar Area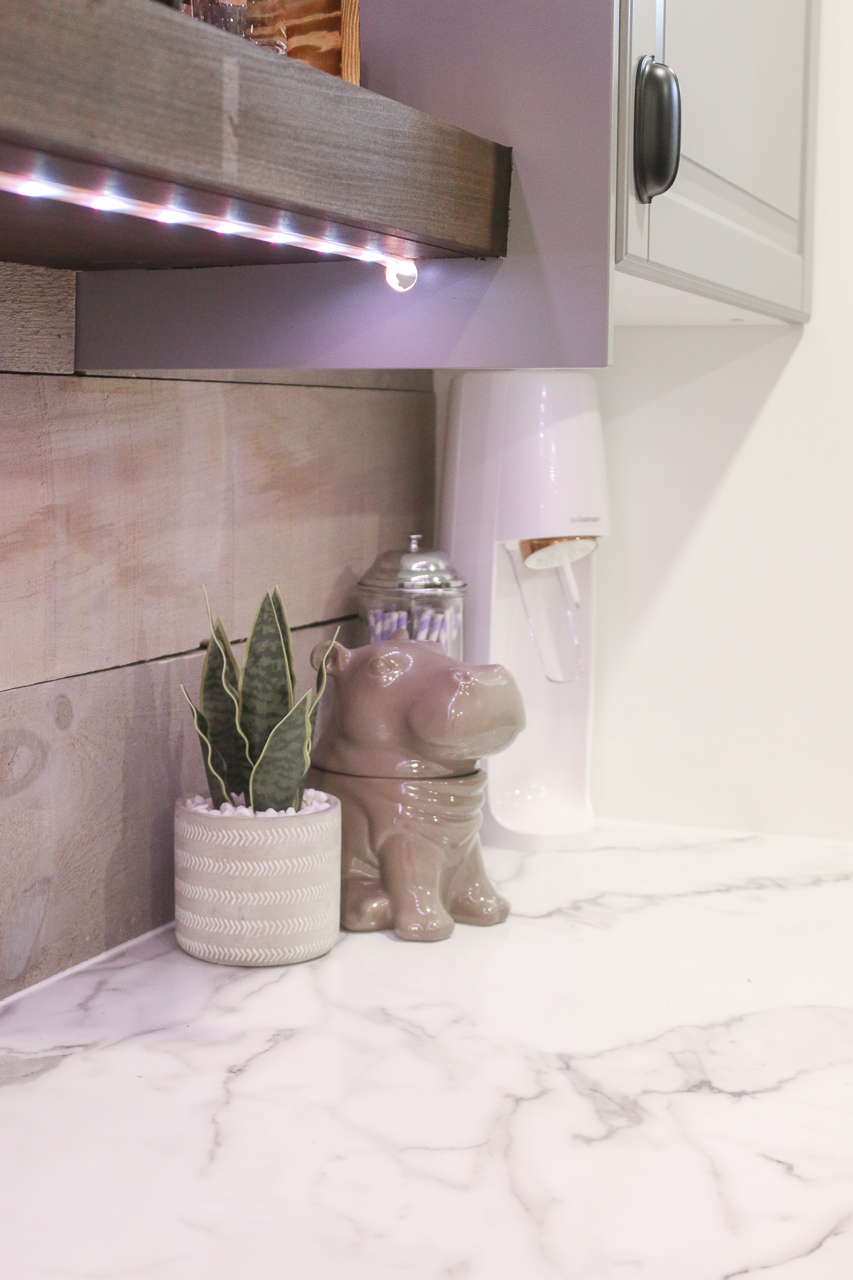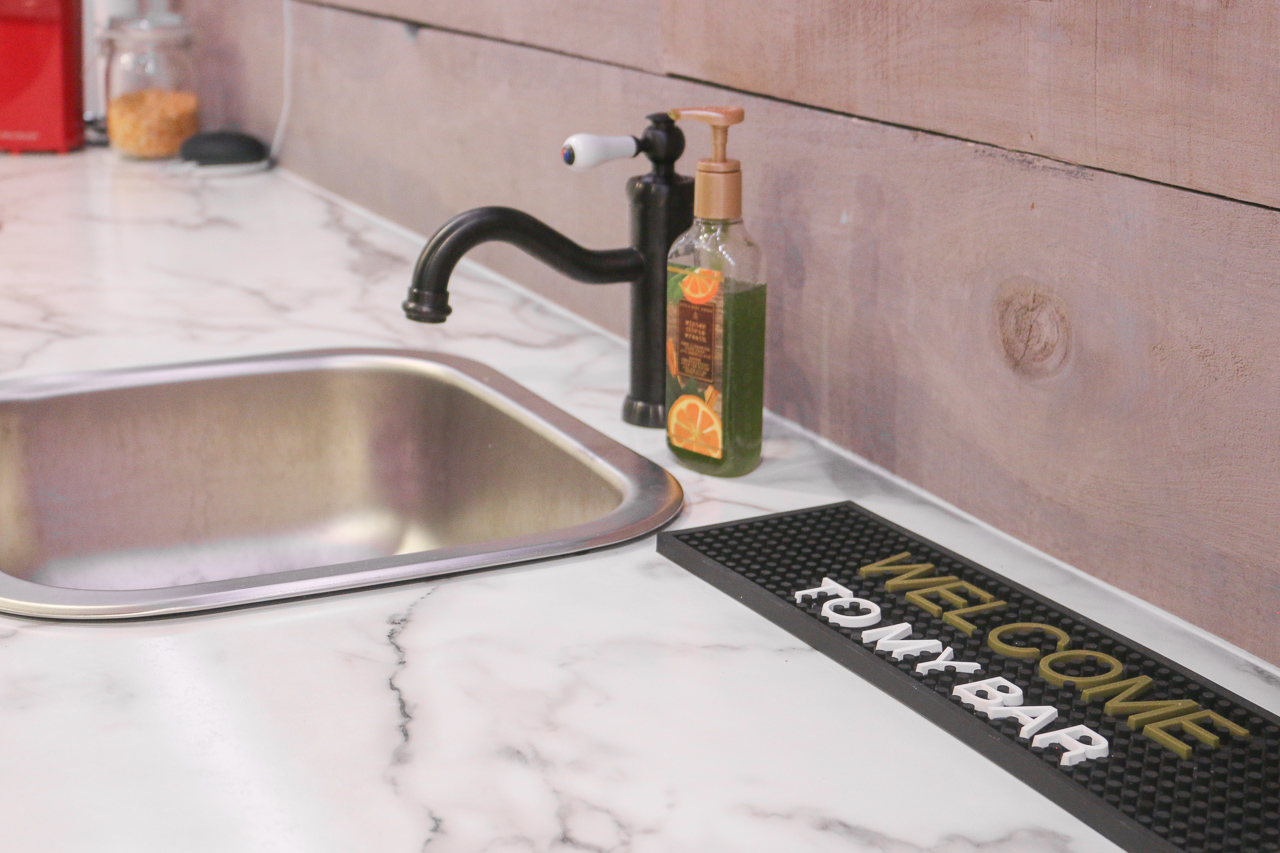 We love entertaining and having our friends over so having a bar in the basement was a priority. It creates the perfect spot for cocktail making, pouring a glass of wine or popping some popcorn before a movie night.
The main item we knew we wanted to include in our bar was a mini-fridge. There's no way we were going to be walking up and down the stairs for a cold drink. We went with a 4.5 cu. ft. Compact Fridge that has a little freezer and purchased it at The Home Depot Canada. I'm not sure if you know but The Home Depot Canada will price match an item and beat it by 10%. We noticed the fridge we wanted on sale at another store so all we had to do was start a live chat on The Home Depot Canada website (it was an online-only item, you can also price match in-store) and the representative asked for the price match details and applied it to our order. It was honestly the easiest thing ever. 
I'm so happy with the fridge we picked as it offers ample space and I personally like the non-glass door look as it keeps everything looking clean and organized.
In addition to the fridge, we added a small sink, lots of storage (including a pantry style door at the end), a wine rack and open shelving in the middle for some cute decor!
Adding Under Bar Lighting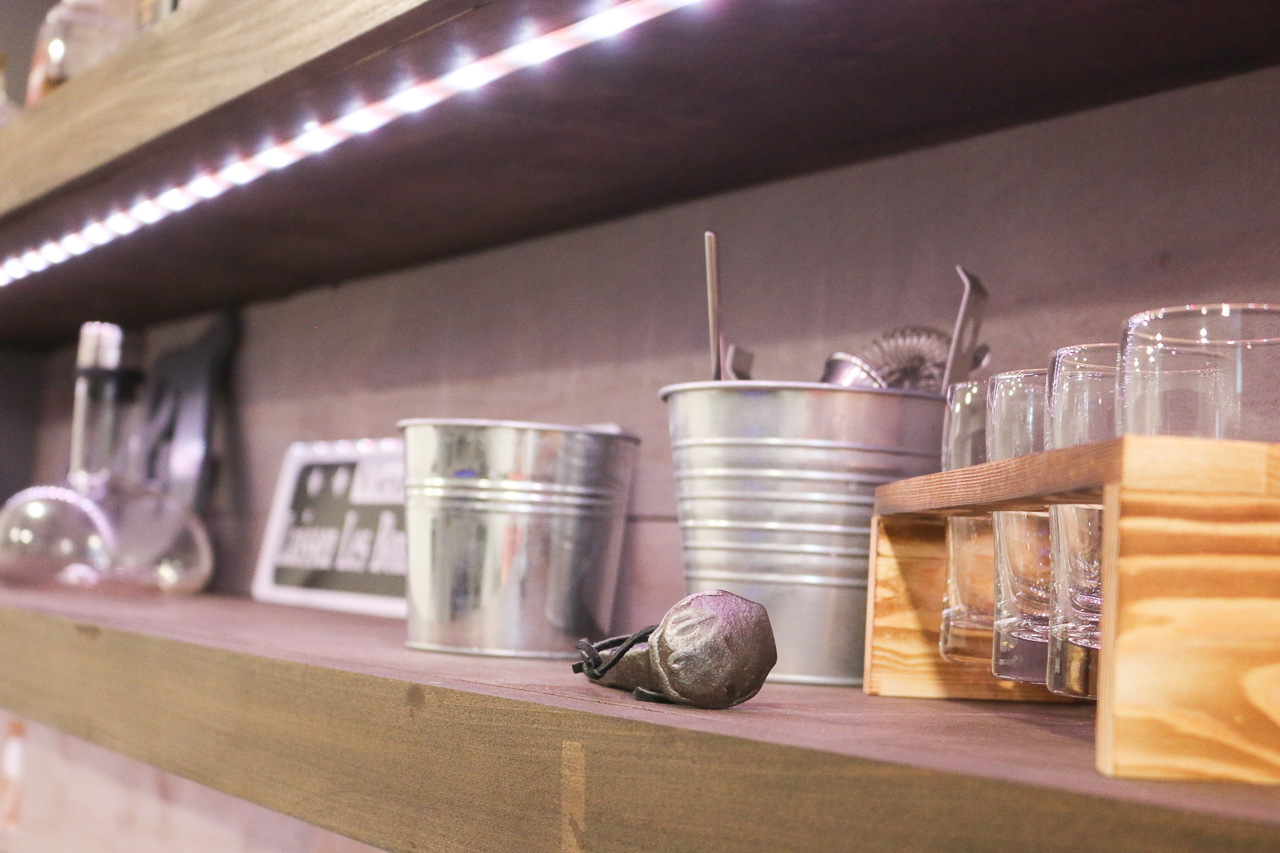 This is something that I've ALWAYS wished I had in my kitchen so when we were building a bar in the basement, under cabinet lighting was a must.
With a previous and positive experience using Philips Hue lights, I knew this was the brand I wanted to add. After doing some research we opted for the Hue Lightstrips that come in a variety of different options. I love the ability to change the colour of the lights which made the Hue White and Color Ambiance package the best option.
We've now hooked up the lights to our Google Home with the help of the Philips Hue Bridge and can tell Google to change our bar lights to any colour we want!
Make sure to check out the Basement Renovation Video to see how we hooked up the lights along the whole bar and the sizing we used. Adam and I did some serious research before getting our contractor to help us set this up, so I hope it helps you as well if you're looking to achieve a similar look.
Entertainment Area
As mentioned we wanted the basement to have a cozy feel so we knew adding a built-in wall where the TV is would be a must. Adding shelving to the side gave us extra storage for games, family photos and any decor pieces.
What really ties the area together is the electric fireplace. I have to give Adam all the credit here as he decided on the sizing of the fireplace and TV and I love the way it came together. The TV is a 65" and then we opted for a longer electric fireplace – the Dimplex Galveston 74" Linear. A lot of electric fireplaces can look fake but after a lot of research, we noticed the Dimplex brand offered the best quality and look that can't be beaten. They actually have a patented flame technology that creates the truest illusion of a fire.
One of my personal favourite features is that with no flame heat or emission and a glass front that remains cool to the touch it's a safe fireplace to have in our home especially with a newborn. I'm honestly so excited to spend this winter all cozied up with the baby by the fireplace watching Hallmark Movies. If that's not the perfect way to start a maternity leave I don't know what is.
Bathroom
Last but not least, although it's a tiny space, we knew having a bathroom downstairs would not only help with the value of the house down the line but would also be super convenient.
We put in a simple bathroom with a sink and toilet and called it a day. We didn't see the need to add a larger bathroom with a shower as it's a small space. Plus, that would have to come from the bar area and nobody wants that!
Favourite Features
Some of my favourite features of the basement I've already talked. Such as the electric Dimplex fireplace and the mini-fridge at the bar but others include:
The barn door for the storage area under the stairs
Opening up the wall at the bottom of the stairs. I feel like this instantly makes the space look bigger
Using a pocket door for the bathroom. This saved space and prevents someone from running into an open door
No carpet. Some might disagree but with a dog and baby in the house, keeping a carpet clean and stain-free would be exhausting
Renovation Video
How to Plan a Basement Renovation & How We Designed Ours
Check out the video below to see the whole renovation come together!
Disclaimer: Products in this post were provided to me for review. All opinions are my own. Thank you to Home Depot and Dimplex for working with me on this renovation.
Check out my other lifestyle posts like our past painting project.