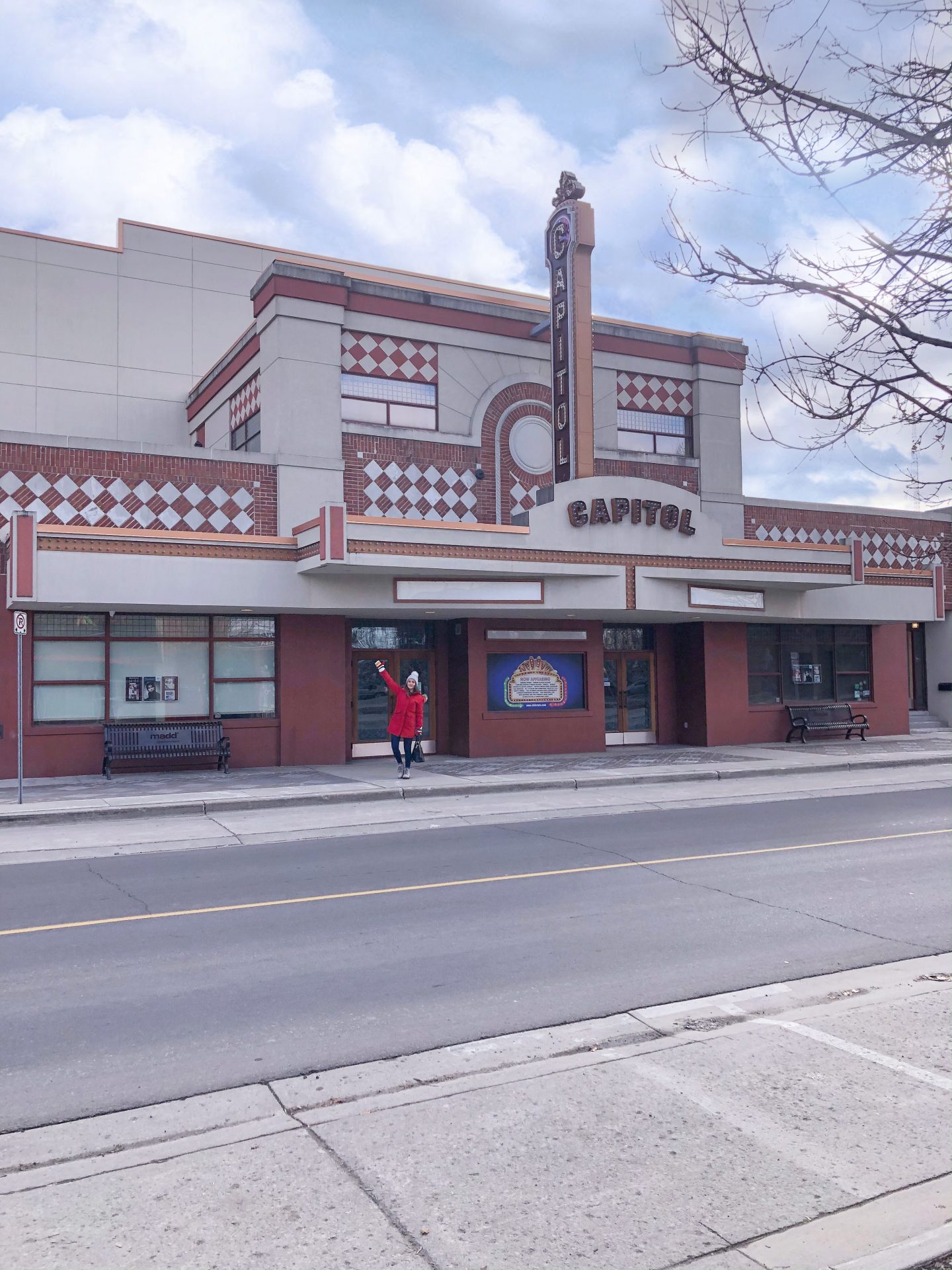 Where to Stay
When visiting a new place part of the fun is the hotel. And, if you're looking for a unique stay, Retro Suites in Chatham-Kent is the place to be. The historic hotel has undergone a series of renovations to create one of the coolest hotels I've ever seen.
The hotel offers 45 individually designed suites such as a Log Cabin room, a Cottage, Wild Wild West and even a Game Time room for the football lover.
During my stay, I was in the Cottage Suite which offers a downstairs lounge area full with a wet bar, full bathroom, couch and a TV. The coolest thing about this suite is that it has a staircase inside the suite which is used to get to the bedroom. Upstairs you'll find a king bed, a half bathroom, and the most beautiful rustic decor.
The Cottage Suite is full of the most beautiful pieces and makes you feel like you're really staying at a waterfront cottage. Make sure to watch the VLOG below for a full room tour. One of my favourite features were the floors and the art in the bedroom.
Not only are the rooms at the Retro Suites amazing, but the whole hotel is like a museum. You're constantly discovering new things. All I have to say is make sure you have your camera ready as you'll want to take 100s of photos. Walk around each floor of the hotel and check out the side of the building as it offers a super cute retro backdrop for photos.
Fun Fact: The staircase, in the hotel's lobby, dates back to 1895, when it was a part of the Merrill Hotel. The terrazzo floors and tin ceilings, along with the contemporary art and furnishings, give the Retro Suites Hotel its unique appeal.
What to Do
Visit Erieau Beach
Erieau Beach is definitely a place to visit during the warmer months, but even during the winter it offers beautiful views. Located on a sandbar between the shores of Lake Erie and Rondeau Bay, Erieau offers an amazing beach community with two marinas, cottage and cabin rentals, marsh trails, biking and boating.
During our trip, we took a few moments to take in the views from the beach and climb on some of the ice hills on the beach. If you are to do this as well, please be careful as it is slippery. If you keep walking down the beach you'll find the hallmark of Erieau – a working lighthouse at the end of a long fishing pier. Defiunetly worth checking out for some beautiful photos.
BaySide Brewery
While you're in Erieau Beach, you can make a pit stop at BaySide Brewery. Offering a massive patio for the summertime, it's a great place to kick back and relax. They offer a variety of craft beers, a wood-burning pizza oven, and a full menu with burgers, wraps and just about anything else you could want.
We opted for trying a flight which allowed us to try a few different beers, which I highly recommend.
We opted for trying a flight which allowed us to try a few different beers, which I highly recommend.
Thames Art Gallery
The Thames Art Gallery offers a new exhibit every 6 months so even if you have been to Chatham before, guaranteed there will be something new to see. Make sure to check before visiting as they do close for 4 days to set up the new exhibits. You can check their Facebook page here: https://www.facebook.com/tagck/ for up to date information.
It's dedicated to promoting the understanding, appreciation, conservation, and enjoyment of the visual arts in the community of Chatham-Kent for present and future generations. The Gallery places emphasis on public arts education programming and multidisciplinary exhibitions programming.
Bella Chocolatier
Got a sweet tooth? Make sure to check out Bella Chocolatier which is located on King St. West in Chatham. She has a wide selection of handcrafted chocolates, turtles, barks, fudge and more!
Sons of Kent Brewery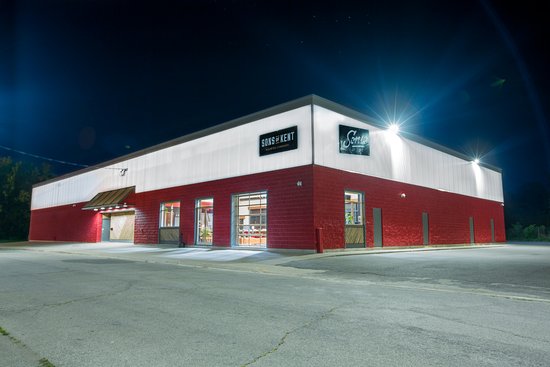 Located right downtown Chatham, is Sons of Kent Brewery. They have an on-site tasting room, event space, bottle shop and live entertainment. What's really cool is that the brewery use to be an old movie theatre that they restored.
Once again, we opted for a flight of beers so we could try pretty much all of them. Overall, we did have a few favourites which included:
FlyWheel Blonde: A crisp and refreshing beer brewed with traditional Bavarian hops and local Canadian Malt.
1782 English Ale: Traditional English Ale brewed with Maris Otter, and East Kent Goldings. Malt forward with a noble hop aroma.
Zephyr: Dry Hopped Sour
Where to Eat
Chatham Breakfast House and Grille Churrascaria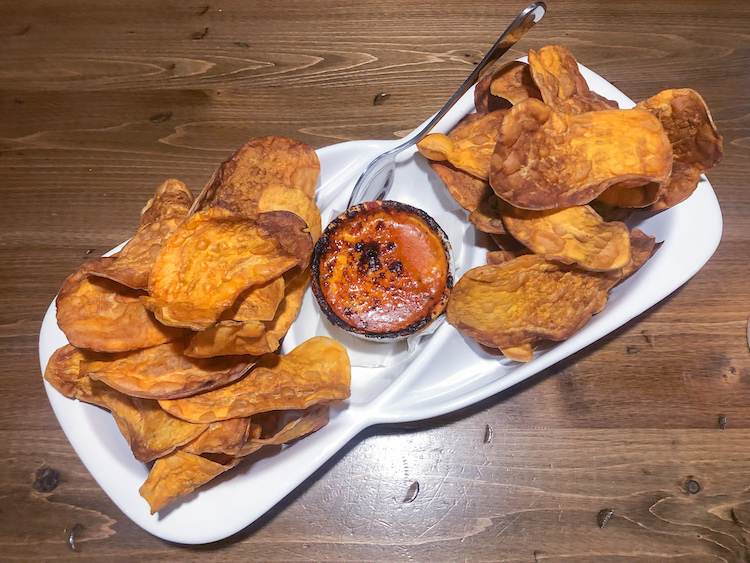 Looking for a place for dinner? Then you'll want to visit Chatham Breakfast House and Grille Churrascaria. This is one of Chatham's TOP culinary destinations with its delicious Portuguese food. What I loved about this restaurant was that it had a fancy vibe to it which makes it perfect for weddings or corporate functions, but it also has that casual feel making it a very relaxing place to have dinner. I loved seeing a mix of young couples, families and groups gathering all within the restaurant.
Tip: Make sure to look around the restaurant as well as they have family photos all around which I thought was a beautiful touch.
Now, let's get to the food! We started our meal with the Sweet Potatoes & Roasted Red Pepper Cheddar Dip, and it did not disappoint. We were told that people come to Chatham Breakfast House and Grille Churrascaria just for their homemade sweet potato chips and I can see why. The crispy-ness of the chips combined with the warm gooey dip made for the perfect combo. Not the mention, the portion size.
You definitely get your monies worth. I ended up taking home the leftover Sweet Potato Chips and have been constantly snacking on them.
Next, up were some additional appetizers – a homemade sweet potato soup with bacon and their twist on a caesar salad. Using a salad mix and combining it with additional veggies like carrots, made for a delicious salad.
For our mains, we opted for the Prosciutto Wrapped Steak Piri Piri and the Piri Piri BBQ Atlantic Salmon. Both were fantastic and we had zero complaints. As mentioned above, not only is the food delicious but the portion sizes are fantastic. We ended up taking home some of our dinners because we couldn't even finish it.
The Chilled Cork
Located inside the Retro Suites, is the Chilled Cork. Open daily for breakfast, lunch and dinner The Chilled Cork offers a casual place to grab a bite to eat or just a drink.
We visited the restaurant for breakfast and opted for the Chilled Cork Benny which is eggs benedict with spinach, tomato, goat cheese and a basil puree. As well as the Full English which is everything and more – 2 eggs bacon, ham, sausage, baked beans, grilled tomato and mushrooms.
The service and the environment were great making it the best way to end our trip to Chatham! Next time, we will be visiting Chilled Cork for lunch or dinner, as there are so many delicious items on the menu.
Note: When staying at The Retro Suites on weekdays your breakfast is included at Chilled Cork.
Watch The VLOG