Purchase a SightSeeing Pass
Looking to see and do everything while in Nashville? Then you'll want to purchase the Nashville Sightseeing Pass. It's a Pass that allows cash free entry to over 17 Nashville Attractions. It has the biggest choice of Nashville Attractions and offers a Hop-on Hop-off Bus tour with over 16 stops. With a variety of different pass options available, they make it easy for you to find one that fits you best. You can either purchase The Sightseeing Flex Pass that allows you to visit 3, 4, 5, 6 or 7 attractions or you can purchase The Sightseeing Pass which allows unlimited sightseeing for 1, 2, or 3 days.
We opted for the 3-day unlimited pass so we could take full advantage of the Hop-on, Hop-off bus throughout or the whole stay. To see what attractions are included in The Sightseeing Pass visit their website here.
Tip: Book the Segway tour. It was SO much fun but book it early in your trip as the guides offer tips on what to do in Nashville.
Take Advantage of the FREE Bus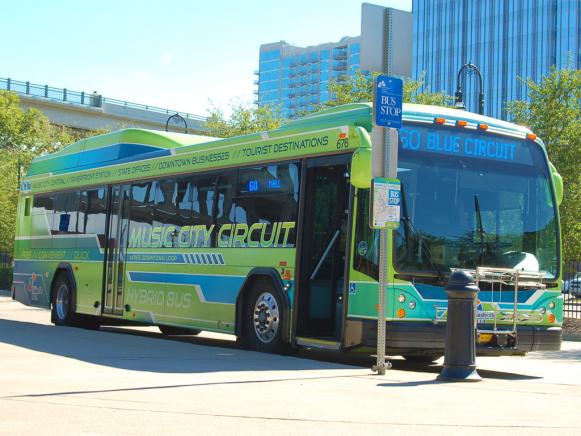 I had NO idea this was even a thing in Nashville until the end of my trip. Keep an eye out for the big green Music City Circuit buses as it's a free bus that runs 2 routes through Nashville every 10-15 minutes, Monday to Saturday. The Green Circuit takes you between the Gulch and the Bicentennial Mall area while the Blue Circuit takes you between Riverfront Station and the Tennessee State University campus.
Eat at The Stillery
Looking for the best pizza or mac and cheese? Then you HAVE to eat at The Stillery. We liked it so much that we went twice. They have two locations, one just off Broadway and a 2nd in Midtown. I do recommend calling ahead and making a reservation. Check out my Nashville YouTube Video for video of the food.
Try Fried Chicken
Everyone told us to go to Hattie B's for fried chicken while in Nashville but when we tried to go there was a line around the building. No joke. Instead, we asked a local and they mentioned that The Row (5 min walk from Hattie B's) also was known for their fried chicken. Not only was the food great but they also had live music going and a relaxing patio area.
Take a Self-Guided Brewery Tour
If you're a beer lover then you have to visit some of Nashville's local breweries. We did a self-guided tour as we didn't mind walking to each one as it was only about a 10-15 min walk to each one. Below is the order that we visited but there is also Czann's Brewing Co LLC close by.
Make Reservations
As mentioned before, make reservations before going to Nashville. Especially if you're in a larger group. This goes for restaurants that are top on your to-do list as well as if you're thinking of visiting The Blue Bird Cafe.
NASHVILLE VLOG