When visiting a new city, like Chicago I always like to look at other people's itinerary to get an idea of what they saw and how much they crunched into a day. I personally find it helps me to plan my trip more efficiently. This is why I thought I share my 3 Day Schedule to Chicago! Everything from where I stayed, where I ate and what I saw/visited.
Where to Stay
Staying downtown when visiting a new city is a must for me. The last thing I want to do is have to pay for transit every day to get in an out of the city and what if you want a quick break in the day? Staying downtown allows you to easily get back to your hotel for a rest or even grab something you might have forgotten.
Loews Chicago
Loews Chicago is located right downtown Chicago allowing you to be 15-20 minutes from just about any major attraction in Chicago. During our stay, we had some rainy days so being able to get back to the hotel quickly to wait out of the rain definitely came in handy. The hotel offers two restaurants, which I will talk about more later on in this post as I had the opportunity to try both. There's also a lounge bar, in-room dining and a Starbucks! They also offer self-parking and valet for those driving into the city.
Now, the important factor – the rooms! For a hotel that is right downtown I was expecting a small room but this was not the case. The room had the most comfortable king size bed, a desk, lounge chair and a large bathroom that easily allowed two people to get ready at the same time.
Fun Fact: The overall hotel design is influenced by two of Chicago's most prevalent architects – Mies van der Rohe and Louis Sullivan. The architectural details of the lobby are inspired by van der Rohe's belief that spaces should be open and light filled. He also used only right angles in his architecture and preferred a color palette of white, brown, black and gray. The softer touches of the hotel (lobby ceiling, ballroom metal screens, etc) are inspired by Louis Sullivan's belief that all surfaces should be heavily adorned. He often used repetitive floral patterns on his structures – examples of which can be found throughout the hotel.
Day One
Lunch at Eataly Chicago
I had never heard of Eataly before but now that I am aware of this spot I will be looking for other locations during future travels. Not only do they have the most amazing market where you can support local farmers, fishermen, butchers, bakers, and cheesemakers. They also offer several different restaurants. We tried La Pizza La Pasta and I'm still dreaming of the homemade ravioli. My only regret is not having enough room to try a pizza.
Stop by Trader Joe's
This is for my fellow Canadian readers, Trader Joe's is just a short walk from Eataly Chicago so make sure to stop in and buy some goodies to take home.
Visit 360 Chicago
Now that your bellies are full, take a stroll down The Magnificent Mile and head towards 360 Chicago where you can take in some breathtaking views on the city.
Chicago Tip: If you're looking to visit all the main tourist attractions in Chicago pick up the Go City Chicago Pass. The Go Chicago Pass gives you access to 25+ attractions and experiences within the city which saves you a TON of money. Pick from a 1, 2, 3, or 5-day pass, download the app and use your smartphone to show your pass at each attraction. I'll let you know which stops are included within the Chicago Pass throughout this blog post.
Walk to Navy Pier
Head towards Navy Pier to visit their inside garden, rides, shop and Children's Museum. This is also a great spot to grab a drink and rest your feet. (Included in Go Chicago Pass: Navy Pier Rides, Children's Musem)
See a Sports Game
I won't lie, I'm not a HUGE sports person but seeing a game in a new city is a lot of fun. It's also a great way to spend an evening. Guaranteed Rate Field, where The White Sox's play is only a 15-minute drive from downtown Chicago and offers stunning views from their 500 concourses. They also offer an insane amount of different beers and offer a wide variety of food options like a veggie sandwich, loaded fries, pizza and more.
Day Two
Breakfast at Hotel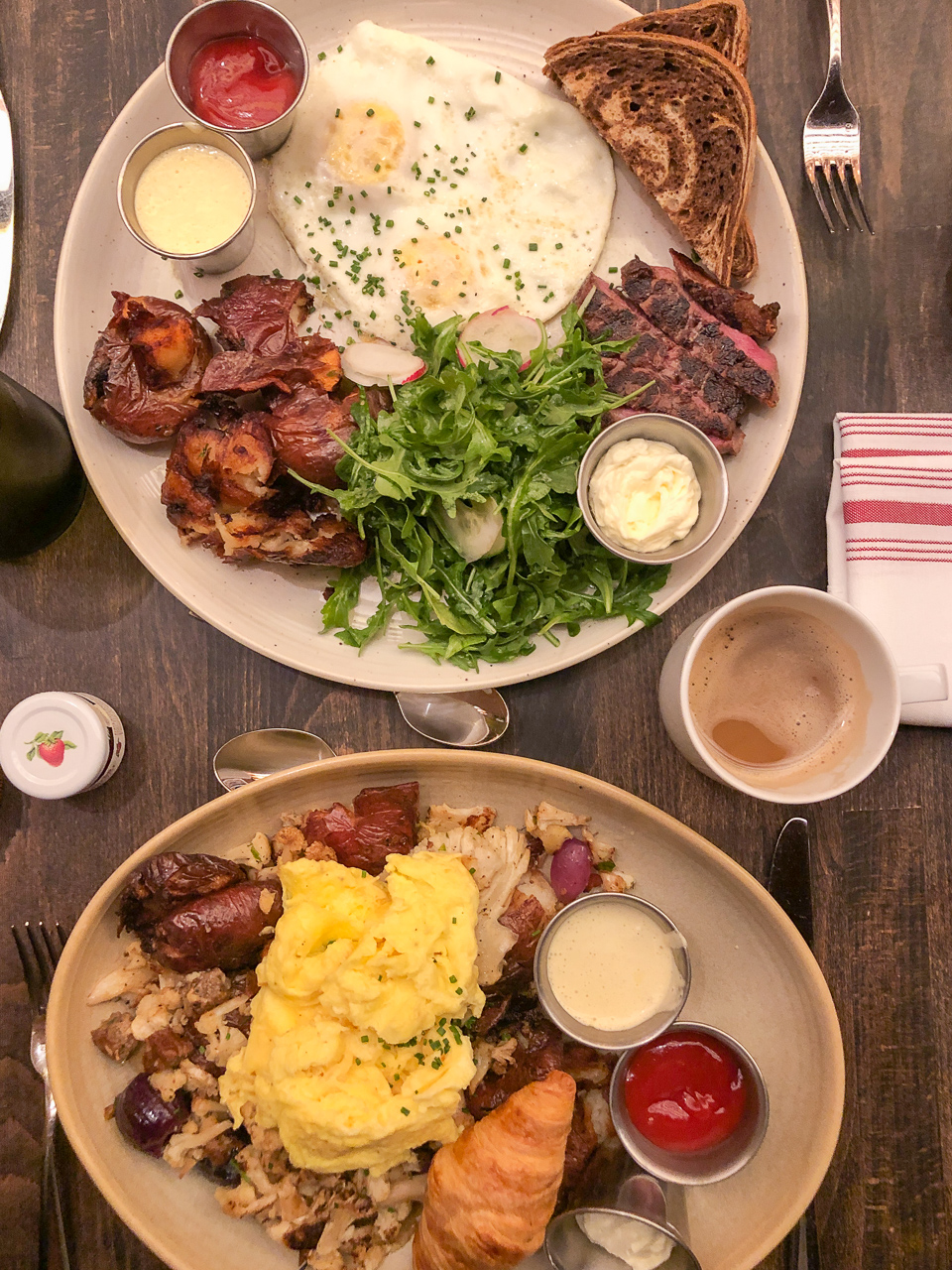 After a full first day, being able to wake up and just go down an elevator for breakfast was so relaxing. ETA Restaurant is located on the main level of Loews Chicago and offers a great bang for your buck. I tried the Cauliflower Hash with a fresh pressed juice (highly recommend) while Adam got the Steak and Eggs. While both couldn't finish our meals, we left with some pretty happy full bellies.
Architecture Boat Cruise
When I asked people what I should do when in Chicago, literally everyone said the Architecture Boat Cruise and they were right! The boat takes you up and down the river giving all while providing you with so many interesting facts about the city and buildings. (Included in the Go Chicago Pass)
Walk Around Millennium Park
Did you even go to Chicago if you didn't visit the famous Bean? Make sure to go early as it's always crowded with people.
Lunch at Latinicity
Latinicity has to be one of the coolest ideas for a restaurant which brings the unique flavours of Latin America to the heart of Chicago. It's a multi-sensory experience featuring 8 innovative kitchens, coffee café, full bar, and lounge. As you enter you're given a card, which you take to each kitchen. They swipe your card for what you purchases and once you're done eating you simply bring your card to the front, pay and go. It's the perfect way to try a little bit of everything. My suggestion, try the veggie taco and the mashed potatoes!
Tour Around Museums
Located close to each other are the Field Museum, Planetarium and Shedd Aquarium. Pick your favourite or spend the afternoon visiting all three which are included in the Go Chicago Pass.
Chicago Tip: Tired of walking? Use the Go Chicago Pass and take advantage of the Hop On Hop Off Bus.
Pie in the Sky Dinner at SkyDeck
Pie in the Sky gives you the opportunity to enjoy a Chicago style pizza all while sitting on the 99th floor of the SkyDeck. It's a three course meal, catered by Giordano's Pizza which includes a salad, deep dish pizza, dessert and a soft drink. After you enjoy your dinner while looking out over the beautiful city of Chicago you get VIP access to the 103rd floor to check out the observation deck. The VIP access gives you front of the line access to take photos in the glass
Day Three
Lunch/Brunch at Chicago Burger Company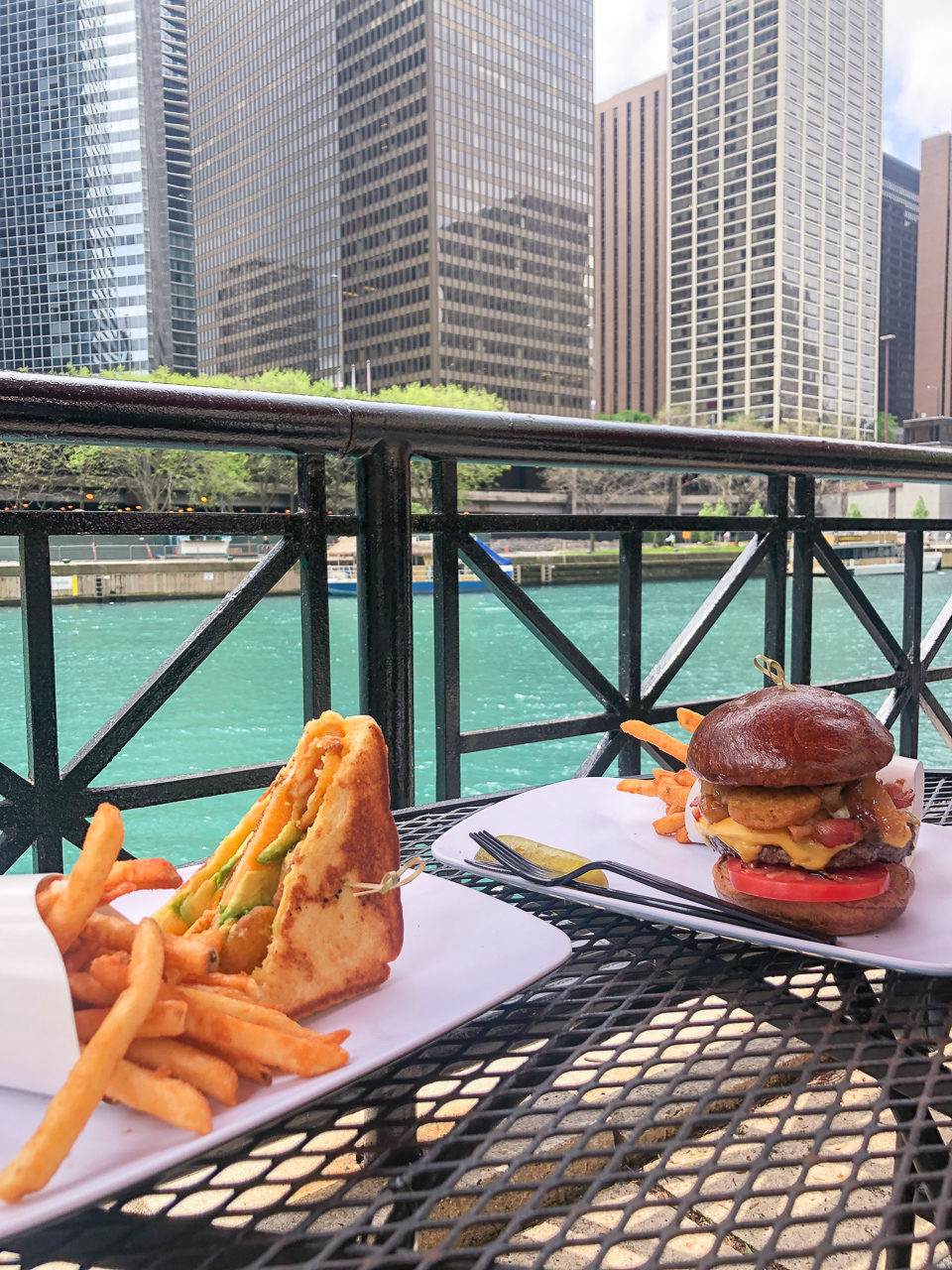 Located inside the Sheraton Grand is the Chicago Burger Company (CBC). Offering delicious and affordable food while sitting on the Riverwalk. If you're a meat lover, the CBC burger is for you but make sure you're hungry, it's huge. For us vegetarians, they offer the Beyond Meat Burger and a Grilled Cheese. I opted for the Grilled Cheese but added in deep fried pickles and avocado.
Stroll the Riverwalk
Work off that lunch with a walk on the 1.25-mile pedestrian stretch of the Riverwalk.
See a Show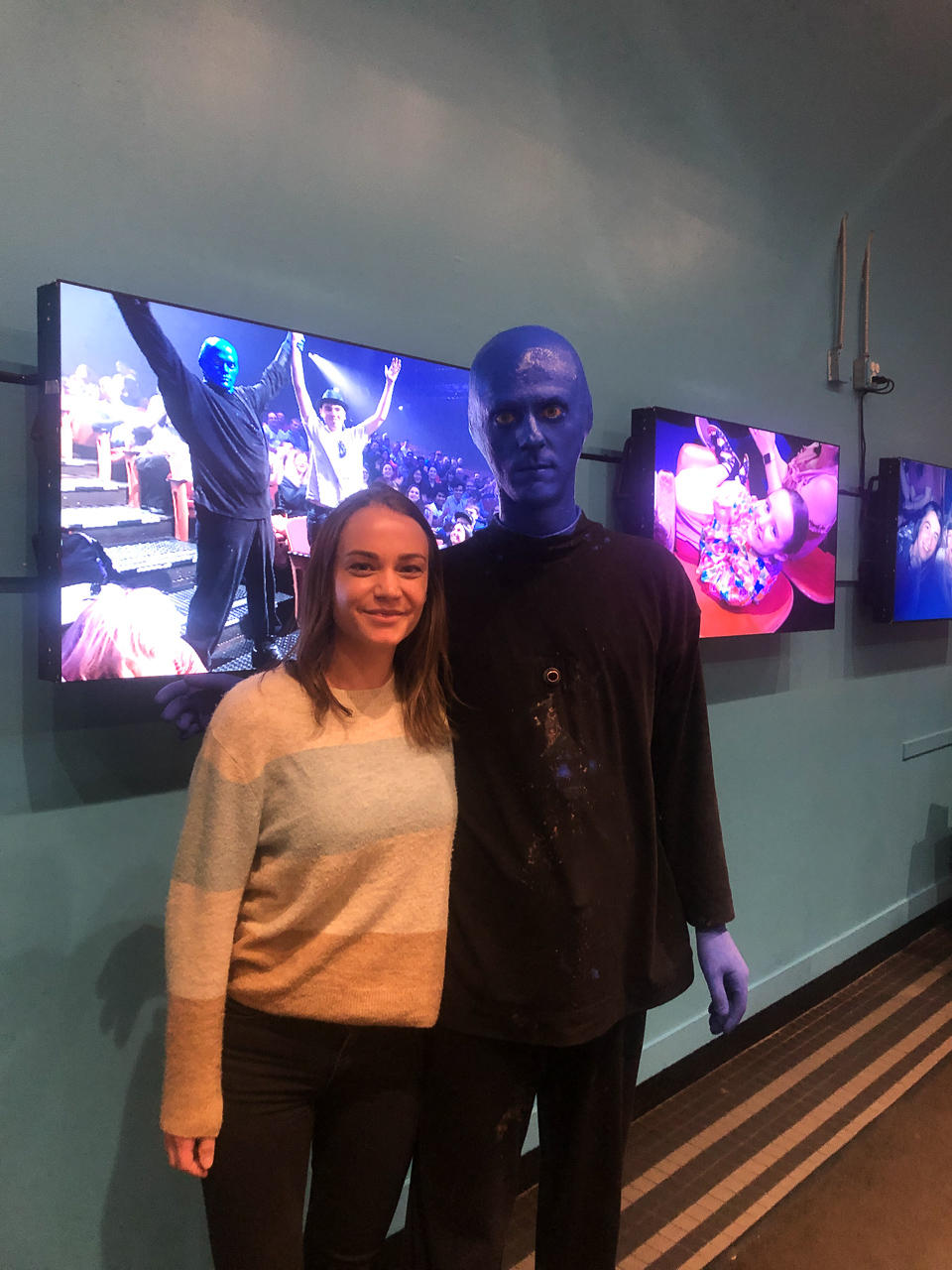 There are SO many shows to see in Chicago so it can be hard to pick but for my trip, I visited the Briar Street Theatre to see The Blue Man Group. Click the click to grab your tickets! You won't regret it. It's also perfect for the whole family.
Dinner at Hotel
Your last few hours in Chicago should be relaxing. Located at Loews Chicago is Streeterville Social which is a rooftop restaurant that offers delicious bites such as Pickles Ramp + Fontina Flatbread, Korean Sticky Wings, Fries, Mini Lobster Rolls and more. There's also a great selection of beer, cocktails and mocktails. Last but not least, the staff is awesome.
Other Spots You Must Visit
Hampton Social
Delicious place for cocktails and snacks is Hampton Social. Don't forget to take a photo with their Rose All Day sign. We visited their Streeterville location.
Chicago Theatre Sign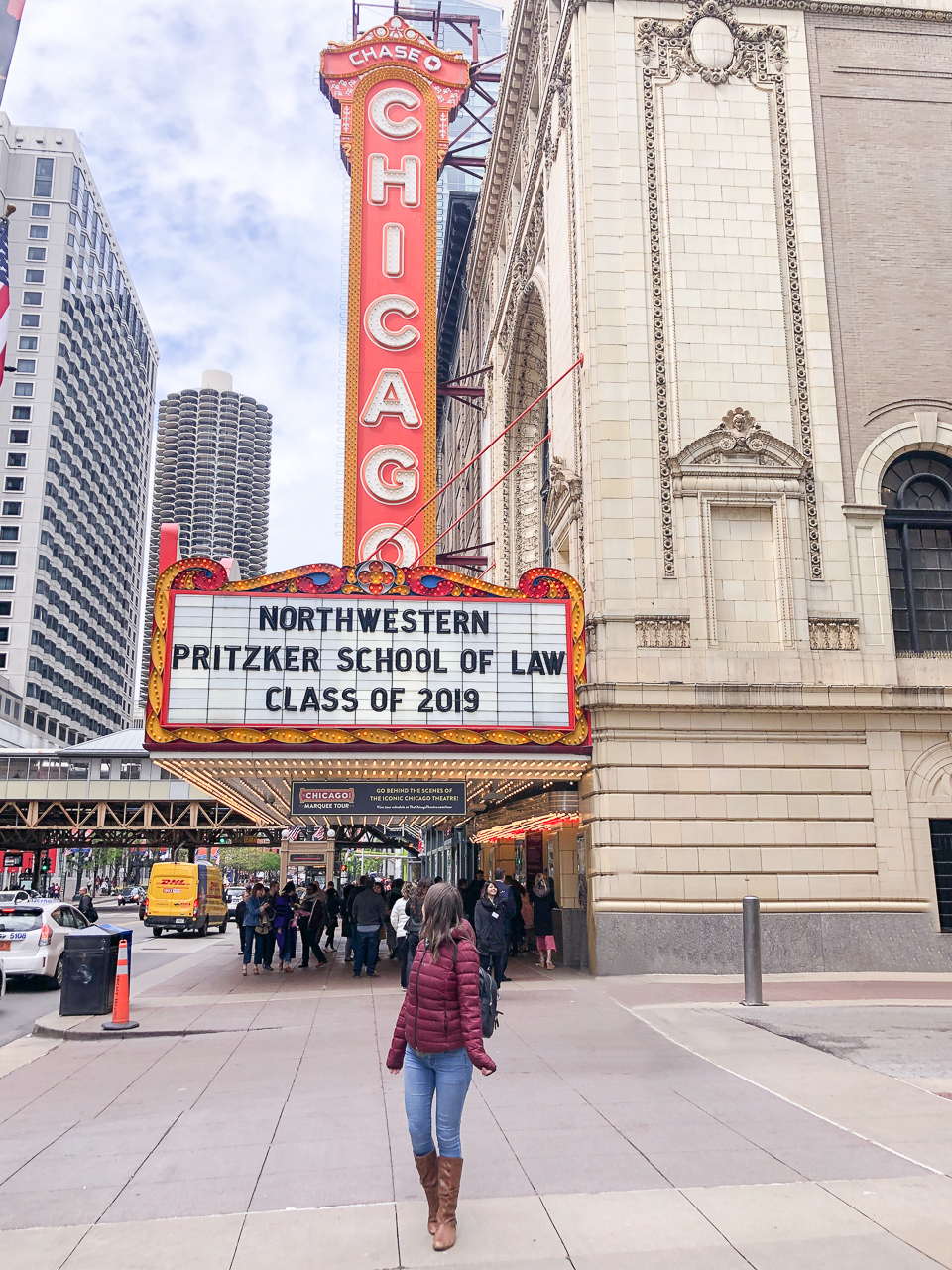 Another must-see landmark for the Instagram page. The Chicago Theatre Sign is located on North State Street in the Loop area of Chicago.
Dick's Last Resort
Definitely not for everyone but Dick's Last Resort will never have a dull moment. Make sure you go with a good sense of humour as the waiters hold nothing back.
CHICAGO VLOGS