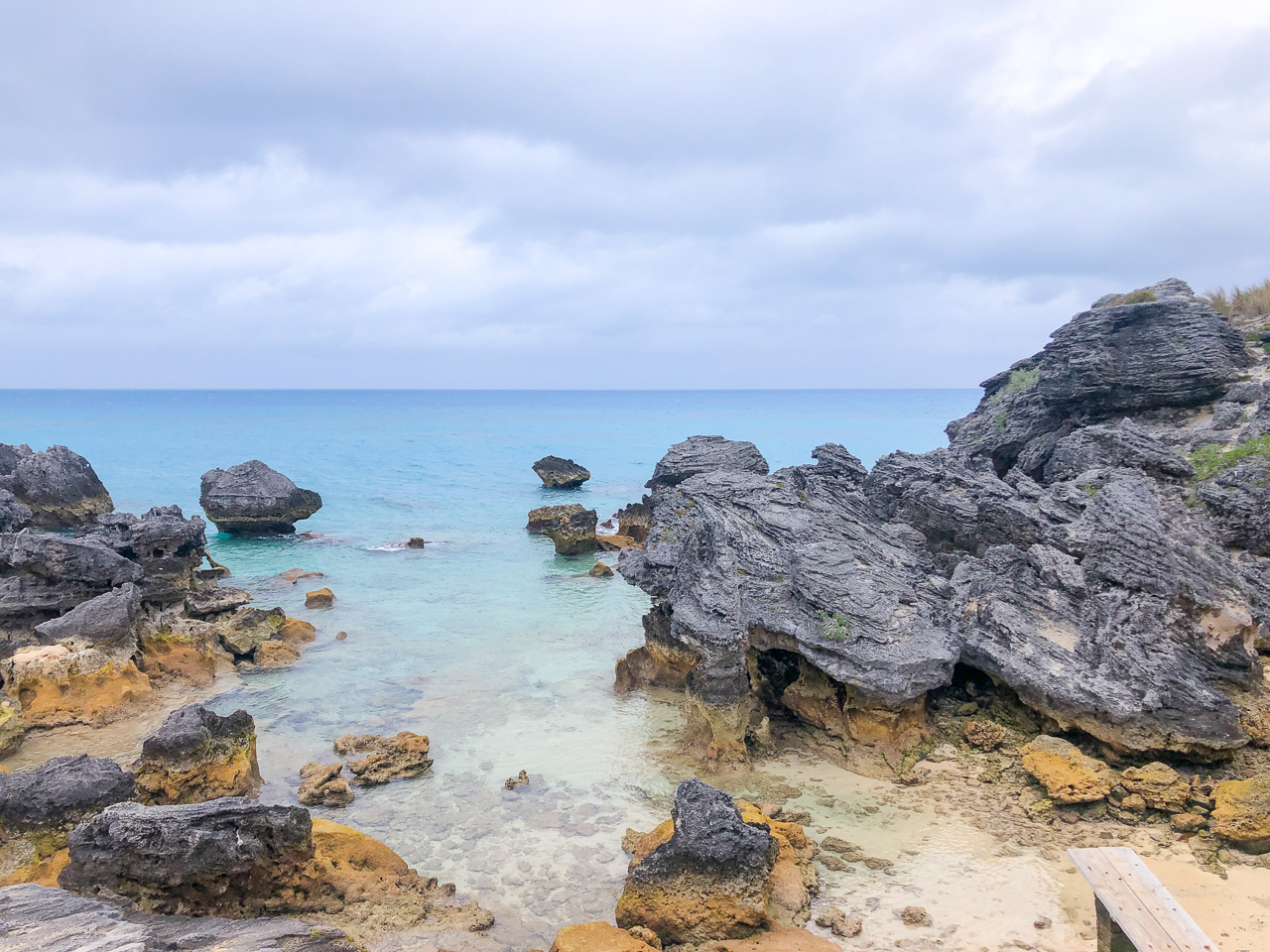 If you're reading, I'm assuming you're heading to Bermuda or interested in learning more about the country. Either way, I rounded up my favourite spots as well as some local tips/spots that can help you save some money when visiting Bermuda. As I'm sure, you've already heard, Bermuda is expensive but it's also SO beautiful.
Where to Stay
Airbnb
One option you have when visiting Bermuda, is to stay at an Airbnb. While, we didn't opt for this because we booked pretty last minute there are some great deals. Weather you're looking for a spot that is close to the water or more in the city, you'll definitely find something.
Hotels
Bermuda has tons of hotels to choose from. I rounded up the two that I stayed at and another two that we visited as it was so beautiful.
Coco Reef
Located on Elbow Beach, is Coco Reef. A small hotel which offers an ocean view from every room. Within just a few steps you can have your toes in the sand and relaxing on one of their many lounge chairs. The hotel also offers a restaurant for breakfast, lunch and dinner. Don't let the gold decor around the hotel fool you, the hotel is up to date and offers a super comfortable bed!
Fairmont Southampton
For the last few days of our trip, we stayed at the Fairmont Southampton. This was the perfect way to end the trip as the hotel gives you that luxury feel. The hotel offers free shuttles until midnight to take you around the resort to one of their many restaurants, the beach (located near Horseshoe Bay, which is a MUST see), or the local bus stop.
The Fairmont Southampton also has a spa, kids pool, adults pool, hot tub and a FREE ferry that will take you to the main area of Hamilton. Make sure to watch my Bermuda VLOG #2 for a full room tour. Other quick perks of the hotel are free coffee in the room, cosy slippers and bathrobes. Might not be a lot to some people but I personally love those little touches when on vacation.
Pompano Beach Club
While we didn't get to stay at Pompano Beach Club, we were able to visit one afternoon for lunch. Family owned, this is a hotel that I will definitely be staying at if I get the chance to go back to Bermuda. Located on the only sandbank in Bermuda, the Pompano Beach Club offers the perfect swim out spot. They also offer snorkel gear rentals.
Offering their guests free breakfast with a stunning view, it's hard to say no to this hotel. They also offer a dinner plan which is $30pp and gives you a full dinner which includes lobster tail if you wanted it. As mentioned before food in Bermuda is expensive so this a great deal. And, if you don't end up using the meal plan for a night the hotel will give you $30 credit to use at the hotel. It's a win-win.
Grotto Bay Beach Resort and Spa
This is another hotel we didn't get the chance to stay at but I wanted to throw it in as the Grotto Bay Beach Resort and Spa is the only hotel in Bermuda that offers an all-inclusive deal. It's located about 10 minutes from the airport and also has a cave that you can swim in.
How to Get Around Bermuda
Airport to Accommodations
If you're travelling with at least one big suitcase, the local bus is most likely not going to let you on to the bus. To get to where you're staying you can either take a taxi or book a shared shuttle with your hotel. I personally suggest the shared shuttle as depending on the time of day and the traffic your taxi is going to end up being more money.
Around the Country
Getting around Bermuda is easy. We purchased a 4-day bus pass that let us hop on and off the bus as much we wanted for the 4 days. This was around $49/pp. The bus pass also allows you access to the ferry which can take you from Hamilton to The Dockyards. Within the 4 days, we were able to go everywhere in Bermuda. We travelled from The Dockyards to the pirate ship bar all the way to St. George's to see Tobacco Bay.
However, if you're not looking to jump on and off the bus that often, you can also purchase a multiple bus tickets or tokens. Just ask your hotel as some of them will have them available at their front desk.
What to Do in Bermuda
Spend the day at one of Bermuda's many beaches including Elbow Beach, Tobacco Bay, Pink Beach or Horseshoe Bay
Visit The Dockyards. You'll be able to visit Calico Jack's which is a pirate ship bar and is super popular in the summer. They even have a plank you can jump off of.
Head to the other side of the island and visit St. George's. Here you can visit the stunning Tobacco Bay, walk around the small town and visit Fort St. Catherine.
Go snorkelling. Many hotels and local spots will offer snorkel rentals and there are many tour companies that run within their summer season (mid-April to around Sept.)
Walk around Hamilton. With so many shops and history, you could easily get your Fitbit step count up by spending a day here. Fort Hamilton is also just a short walk from the main bus stop in Hamilton.
Take the ferry (free with your bus pass) from Hamilton to The Dockyards.
Walk up the Gibbs Hill Lighthouse for stunning 360 views of Bermuda. Only $2.50 to get in.
What to do in Bermuda When it Rains
Bermuda Underwater Exploration Institute

Scenic Caves

Grotto Bay Resort Caves

Fairmont Southampton Spa

Fairmont Southampton Spa
Go to a spa. We went to the Fairmont Southampton Spa and have been told by many people that it's the best on the island
Go to the Bermuda Aquarium
Visit the Scenic Caves. Since you're pretty much underground the whole time, save this activity where the forecast is not the best
Where to Eat in Bermuda
Beau Rivage Restaurant
If you're celebrating a special occasion while in Bermuda, you'll want to visit Beau Rivage Restaurant. Offering authentic French cuisine and some of the most beautiful views of Hamilton Harbour it's a must visit. We could have sat there all night. Tip: the salmon and cheesecake were to die for.
Paraquet Restaurant
Paraquet Restaurant is a small restaurant that we discovered when staying at Coco Reef. Delicious food, homemade burgers, big portions and great prices. If you're in the area, it's definitely the best and most affordable option in the area.
Boundary Sports Bar and Grill
Your favourite sports team playing while you're away? No need to worry. The Boundary Sports Bar and Grill is the perfect spot to visit. Surrounded by huge TVs and tons of sports lovers you'll feel like you're at home. They offer all the pub food staples like wings, pizza, beer and more!
Coral Reef Cafe
Located inside Pompano Beach Club, is the Coral Reef Cafe. With prices and views that you won't find anywhere else, it's the perfect spot for lunch. Make sure to order the Fish Bites as a starter – you won't be disappointed.
Wok Express
Another hidden spot that we found when staying at the Fairmont Southampton, is Wok Express. Located a short walk from the hotel this little place is not only popular with travellers but also with locals. With dishes boosting with flavour and vegetables it's hard to beat their $15-$18 price range. Also, they sell Coronas for $3!
Swizzle Inn
Located across the street from the Scenic Caves, is one of the two Swizzle Inns in Bermuda. This place is a must when visiting the island as it's the oldest pub in Bermuda! Make sure to try their famous Rum Swizzle and sign your name to the walls inside the main floor area.
Bermuda Travel Hacks
Bermuda is expensive if you're looking to have some drinks pick up some booze at duty-free.
A bus pass is the BEST and most affordable way to get around the country.
Stay at a hotel that offers free breakfast to help cut down costs.
If you're staying for a week, try staying at two different accommodations on different parts of the island.
A lot of the restaurants we visited automatically adds gratuity/tips to your bill
When booking hotels look for their extra fees such as tourism tax, bellman gratuity, and house cleaning gratuity.
All places accept Bermuda and American currencies.
Have more questions, leave me a comment here or send me a message on Instagram. I always love helping other travellers. | Other Travel Posts
Watch My Bermuda VLOGs
First Half
Second Half