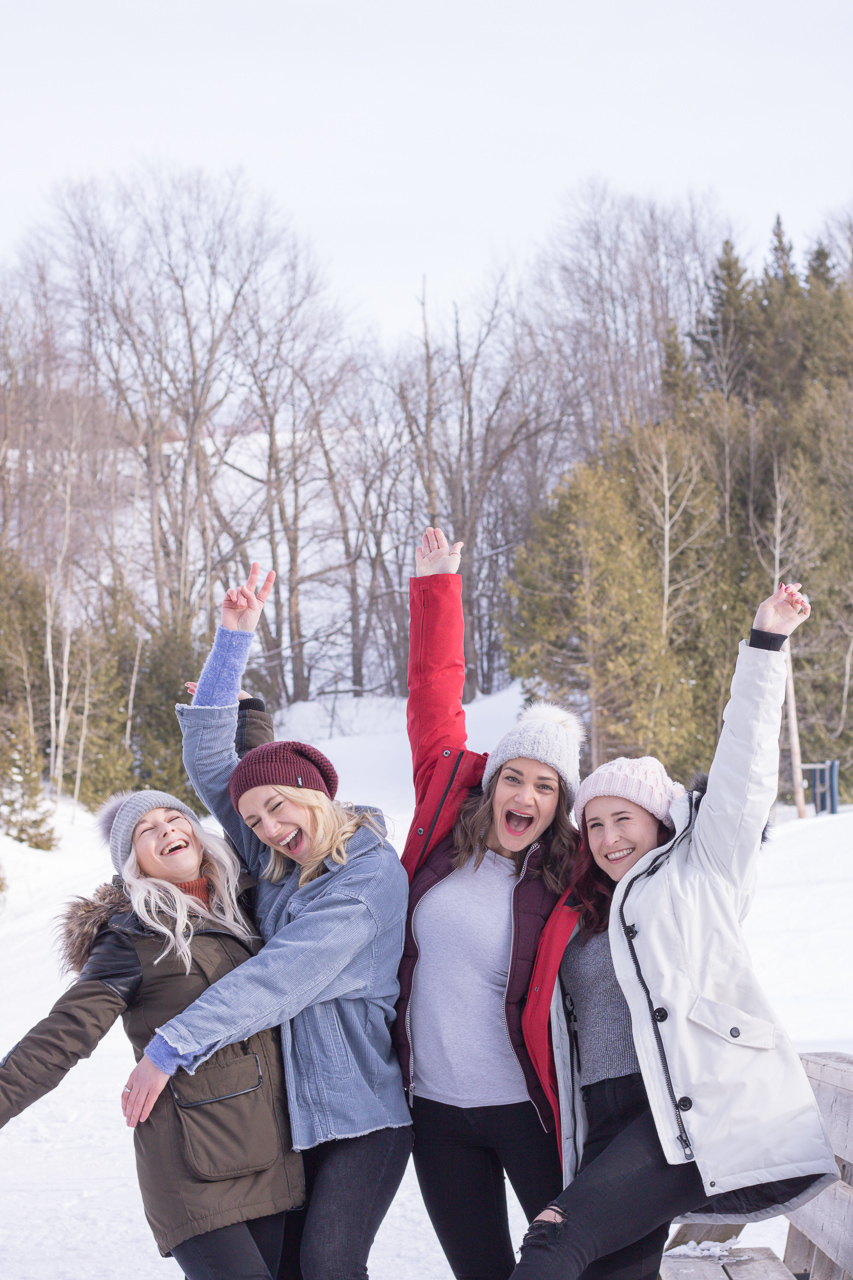 Where is Hockley Valley Resort
Located 1.5hrs from Toronto, ON and Hamilton, ON, in Mono, Ontario is Hockley Valley Resort. Being under two hours away from two major core areas, Hockley Valley Resort makes the perfect weekend getaway for skiers, snowboarders, or a girls weekend.
On a snowy weekend, mysel and three other bloggers headed to Hockley Valley Resort for a girls weekend away. Be sure to check out their blog posts as well:
What to Do at Hockley Valley Resort
The most popular reason people visit Hockley Valley Resort is for skiing or snowboarding. The resort offers the perfect place for beginners and experts. If winter sports aren't your thing, they also offer snowshoeing, cross country skiing and a stunning property that's fun to just walk around.
As mentioned above, just because you don't ski or snowboard doesn't mean that you can't enjoy a weekend away at this beautiful resort. The resort also offers a fitness center, an indoor and outdoor pool (closed in the winter), indoor hot tub, 8,000 sq.ft spa which includes 16 treatment rooms, two lounge areas and the Oasis Cafe.
Visiting in the summer? Make sure to check out their 18-hole championship golf course, organic farm, and bocce court.
All these activities make for the perfect weekend getaway for any age.
Hockley Valley Resort Spa
During my visit, I was lucky enough to experience their 'Personalized Facial'. It's a customized skincare experience to meet your needs. With a deep cleansing and enzyme peel followed by extractions, facial massage and a final mask, your skin will feel relaxed and renewed.
I have to say it was one of the BEST facials I have ever experienced. Throughout the facial, I also received a hand massage and foot massage which left me feeling fully relaxed. If you're looking for something that's the best of both worlds, I highly suggest booking the Personalized Facial.
Where to Eat at Hockley Valley Resort
Located on the main floor, is Cabin. We personally didn't get to experience the food at this restaurant. However, that didn't stop us from stealing a little peek inside the restaurant. The rustic look (using reclaimed hardwood floors, wooden beams from an old barn) instantly got my attention. I'll definitely be trying it next time I go.
If you're looking for a quick bite to eat or just coffee/cocktail then Babbo Wine Bar & Patio is the place to go!
eighty five Bar and Lounge is where you can find your delicious buffet breakfast that has just about anything you could want. It's also perfect for weddings, anniversaires, etc.
Now saving the best for the last and the place we visited for dinner – Adamo Estate Winery! Located just a minute down the road (the resort offers a free shuttle bus) is a stunning winery that actually use to be an old barn.
The winery offers a tasting room on the main floor, a beautiful outside patio with fire pits and upstairs is a their restaurant. On Friday evenings, it's Wine & Unwind where you can enjoy delicious food and listen to a live band. Make sure to watch my VLOG below for more visuals on the delicious food!
Fun Fact: The fruit and vegetable farm at Hockley Valley Resort provides 80% of all restaurant menu ingredients. Spanning four acres, the farm helps to reduce our carbon footprint, increases our guests' experience and enriches the resort's natural beauty and charm.
Hockley Valley Resort VLOG
Subscribe to my YouTube Channel | Check out my other travel posts