Packing for Girls Weekend Away
Big Socks
When I'm heading for a weekend away probably one of the first things I pack are comfy clothes. The other weekend the girls and I headed up North for a weekend away at the JW Marriott The Rosseau Muskoka. With winter upon us, I knew that everything warm and fuzzy would be my best friend. Although we had a fireplace in our room, our matching knit pom pom socks from la Vie en Rose came in very handy. I'm pretty sure none of us wanted to take them off. I can't wait to wear them around the house with a big sweater! In addition to the oversized socks, I also suggest bringing a hat. We all ended up bring a toque (with pom poms of course) and wore it pretty much the whole weekend.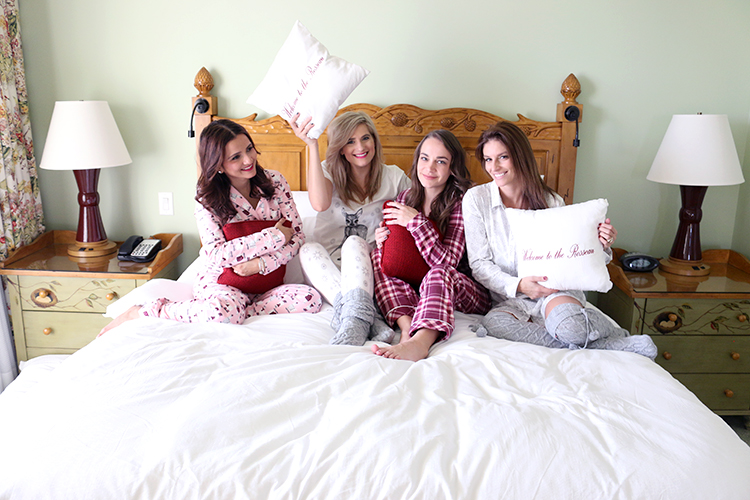 Comfy Clothes
Now, we are wearing jeans in the one photo above, but when it came down to unwind for the evening, we all instantly put on pyjamas.  There's nothing better than coming in from outside to putting on a pair of fleece PJs. la Vie en Rose treated us to a pair of new PJs for the weekend. Over the past few years I've been stealing Adam's plaid pants so this year I decided it might be time to get my own. I picked out the Micro Polar PJ set in the burgundy/pink plaid. I swear this set has to be the comfiest thing ever. What I liked the most was the pants had a fitted feel to them. They weren't oversized or baggy. If you do like a more loose fit, size up!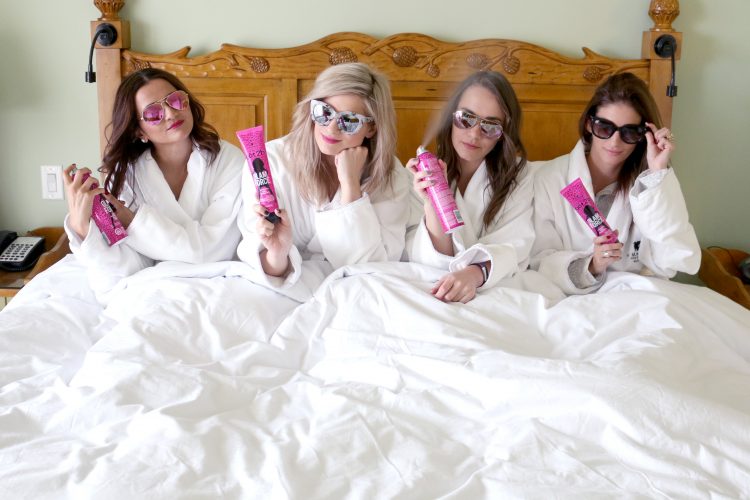 Hair Care
For the most part, we stayed around the hotel and relaxed but the 2nd night we did venture out for dinner at the hotel. Since we were going out for a nice dinner, we thought we'd fix our hair as we had been at the spa earlier that day. It also helped that got2b provided us with each with a GLAM FORCE hairspray and a GLAM FORCE sculpting gel. For this weekend, I styled my hair with simple curls so I used the GLAM FORCE hairspray to lock them in place. For extra hold, you can use the sculpting gel as well but since I have finer hair, I only needed the hairspray. I liked how it held my curls in place but also allowed them to still have movement!
Beauty Products
Now, it's not a girls weekend if you don't end up doing your nails during the trip. Pretty sure, every girls weekend I've gone on there's a group of us sitting on the hotel floor painting our nails. This time Joe Fresh helped us out with their 2017 Holiday Collection. The holiday collection consists of 8 new colours – Frosted, Pink Wish, Sparkling Glitz, Mauve0ulous, Lover's Kiss, Gothika Blue, Dark Pine and Soul Train. Each colour requires no base or top coat, is chip resistant, can last up to 14 days and is only $5 each! They're available at Loblaws and Real Canadian Superstores. I opted for Mauve-ulous for a neutral nail look that could last me throughout many holiday parties!
Snacks
Last but not least – snacks! You can't have a girls weekend away without wine, cheese and snacks. we might have gone overboard but in my mind, you can never have too many bags of chips. Pretty much every time we came back into our hotel room, one of us were digging into one of the many snacks we had on the counter. The photo above gives you a good idea!