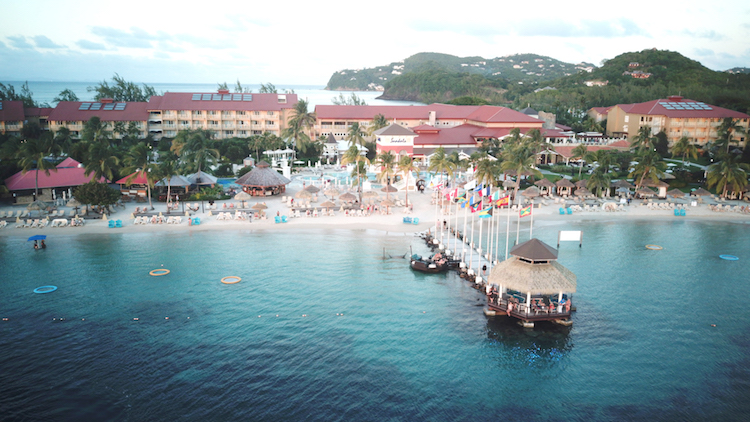 Stay tuned to the end of this blog post for THREE videos all about Saint Lucia and The Sandals Grande!
Getting To The Hotel
Located an hour and half (without traffic) from the airport the hotel is worth the drive. Saint Lucia does not have the best roads and it is a very hilly ride, so if you're prone to car sickness you might want to opt for the Helicopter transfer or the private car option that Sandals offers.
Upon arriving at the airport, we were taken to the Sandals Lounge, which offers light snacks (chips), beer, coffee and soda to tie you over until you get to your hotel.
Hotel Tip: When we were leaving Saint Lucia, we asked to go back into the Sandals Lounge and waited there as we arrived before check-in. Definitely worth trying as the Saint Lucia airport is very tiny and we all know how expensive airport food/drinks are!
The Hotel
Sandals Grande St. Lucian is one of three Sandals Hotels that are located in Saint Lucia. While all three look beautiful, The Grande definitely stood out for us.
Located next to Pigeon National Park, three Sandals sits between the Atlantic Ocean and the Caribbean Sea. The beach is located on the Caribbean sea side, which offers calm water to sit and relax in all day!
What I loved the most about the Sandals Grande St. Lucian is that even though the hotel was full when we visited we were never without a spot to sit or without fresh towels. Around all the pool areas are a ton of loungers, hammocks, daybeds, cabanas and more that are free to use. If you do a butler, they can save spots for you as well.
Our Room
We stayed in a walkout room and loved the convenience of easily getting in and out of our room right from the pool area! One thing I would change is that I wish you could lock your room from the patio. The hotel also offers swim-out rooms as well as over-water bungalows!
On the beach, the hotel has water hammocks, water swings and these water pools that allow you to float in the sea all while sipping on your Pina Colada!
The main pool bar is also the perfect spot to meet new friends and to try Peter's Special if you're into sweet drinks!Make sure you're in that area on Friday's as they have a foam party that youcan't miss!
Hotel Tip: In the hotel spa, they have a hot tub, a cold bath, sauna and steam room that is free to use. All you need to do is walk into the spa and tell them you want to use those facilities and they will show you the way!
The Food
Oh my goodness, the food! I can't say enough good things about the food. I am still dreaming of the pizza from Dino's.
On our first night, we went to Bayside, which is the restaurant located near the main pool and is also where the buffet breakfast is served every morning. I can't remember what Adam ate most nights because I swear he tried two things off every menu every time, as everything looked so delicious. Benefits of an all-inclusive! I opted for the salmon and loved the caper-lemon sauce that was drizzled all over.
As mentioned, Bayside offers a full breakfast buffet but if you're not in a rush try out Toscaninis for breakfast to order off a menu that includes banana French toast, pancakes, eggs benedict and more.
Other dinner options include Barefoot (no reservation needed), which offers delicious seafood options, I went for the salmon again and loved it. If you're a sushi lover make sure you visit Soy as no reservation is needed and is perfect for a pre-dinner meal. Like I said,you're on vacation and at an all-inclusive, you might as well try it all!
The Restaurants
La le Carte restaurants include Italian (Toscanini's), Japanese (Kimonos), Seafood (Gordon's), and Indian (Bombay). We tried all of them and have nothing bad to say. Kimonos offered great entrainment with the live cooking and SO much food, Toscanini's was delicious pasta and risottos, Bombay had amazing curries but make sure to order two flavours as portions are smaller. Lastly, Gordon's offers a romantic dinner on the pier that you can't miss.
For lunch, there are many different places to try, which include:
Dino's – AMAZING made to order pizza
Jerk Shack – delicious Caribbean food
Mariner – hamburgers, nachos,etc.
Josephine's – crepes, ice cream and other goodies for your sweet tooth
Looking for a midnight snack? Head to thepub located in the lobby for Mac n' Cheese Balls, chicken wings, soup and more!I think we ate there almost every night.
Overall, the food from Sandals has to be some of the best options I've had at an all-inclusive. The staff is very attentive with making sure any food allergies or restrictions are met.
Hotel Tip: Try the signature drinks at the restaurants. So delicious.
The Activities
The Sandals Grande St. Lucian offers a ton of watersports that include water skiing, sailing, paddle boarding, kayaking and snorkeling to name a few.
Before this trip, Adam and I had never sailed but the staff offers a free lesson with one of their Hobby Cats and then you're off! It was so much fun and we almost wished we tried it earlier in our trip.
One of the best activities they offer is free snorkeling! With two time slots, morning and afternoon the staff takes you out to various locations around the hotel to scope out the beautiful water life.
Love hiking? Make sure to venture next door and visit Pigeon National Park. For $8 US you can climb up to two look outpoints that are stunning. Make sure to check out my Saint Lucia videos to see some of these views!
Have any questions regarding Saint Lucia or the Sandals Grande St. Lucian? Let me know in the comments below or on Instagram (for a faster response) and I'd be happy to help!
Videos
Sandals Grande Saint Lucia Hotel Tour Video
Saint Lucia in 2 Minutes
All About the Sandals Grande Saint Lucia / What to do in Saint Lucia
COMING SOON