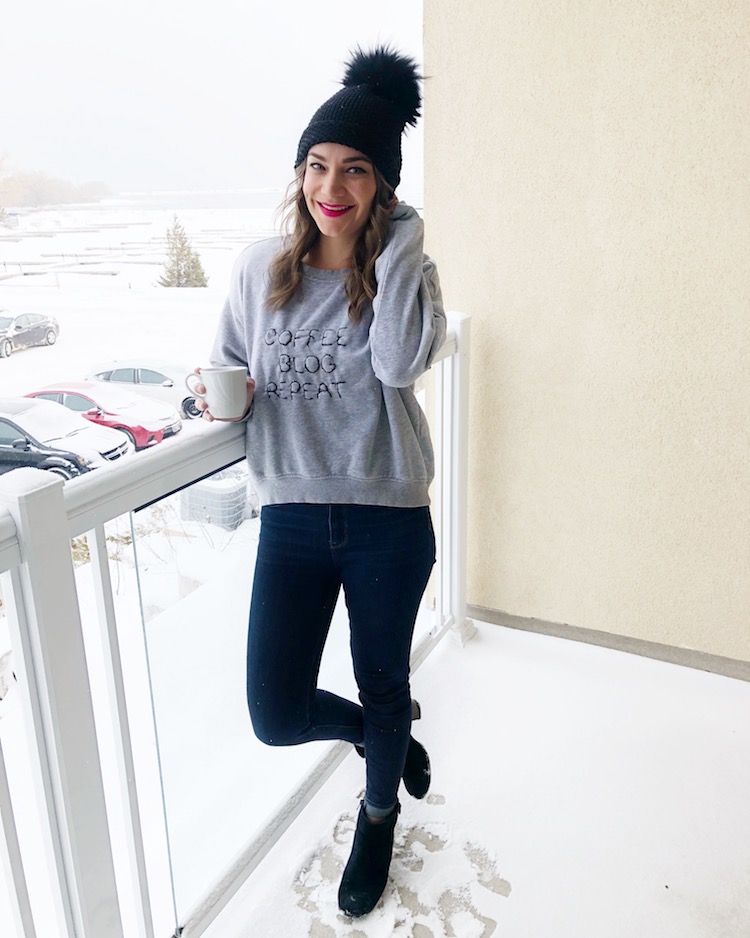 Adam and I are always looking for new ways to get out for the weekend and experience something new. This past weekend we had an opportunity to head up to the Collingwood area near Blue Mountain. Typically when we've been there in that past we've always stayed in the Blue Mountain Village, however this time we got to stay at the Living Water Resort & Spa. Let me tell you this, whether you're on a family vacation or a romantic getaway this place offers you exactly what you are looking for, read below for more details on what to expect and what to do while you're in the area. Please comment below on your favourite things to do while you're in Collingwood, or if you have any questions for me I'm always happy to help!
Weekend Travel Guide for Collingwood, Ontario
Where to Stay
Now, when you think of heading to a local skiing area I bet your mind goes straight to staying directly in the Blue Moutain Area. As nice as that area is it's time to think outside the box. The Cranberry Village are hotels that are located 90 minutes from Toronto. The vast property extends from Georgian Bay to the base of Blue Mountain, Ontario's premier ski area.
The Cranberry Village has two hotels to choose from which includes the Living Water Resort & Spa (where we stayed) and The Cranberry Golf Resort which is basically across the street. The Living Water Resort & Spa is an all-year vacation area that is on the waterfront of Georgian Bay. The hotel offers rooms and suites to give you that luxurious feeling that everyone wants while on vacation, even if it's for one night. They offer an 18-hole golf course, dining (head to Where to Eat, to read more about the food) and family activities such as snowshoeing and cross-country skiing (rental fee is extra). Inside they also have an indoor pool – with a WATER SLIDE, a fitness centre that overlooks the pool area, an arcade room, and spa. Pretty much something for everyone in the family.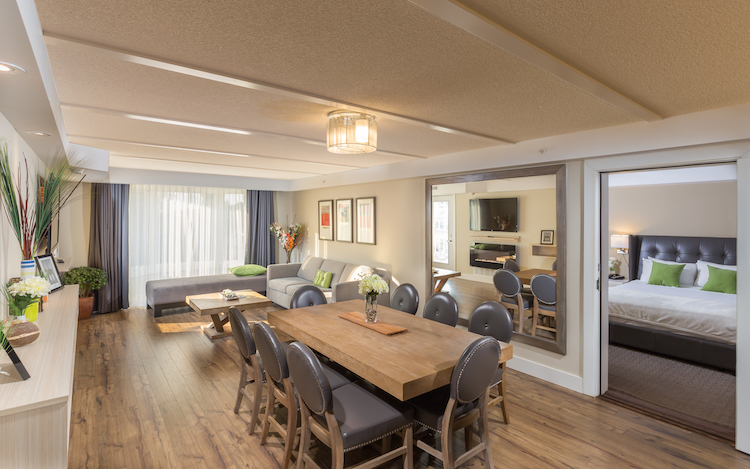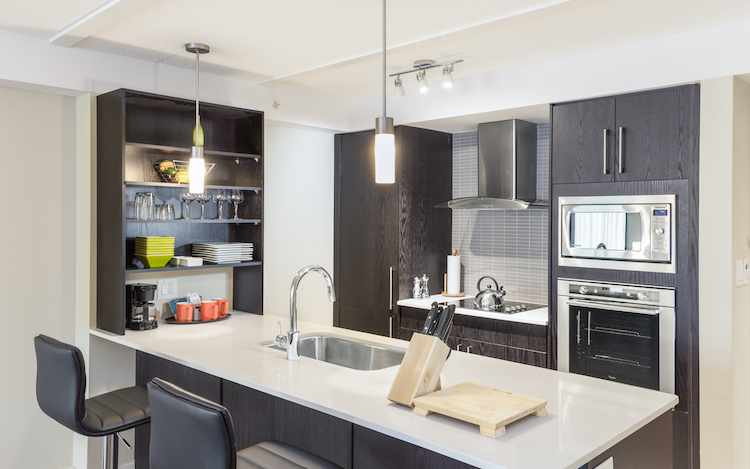 The hotel is also only a 10-minute drive from Blue Mountain where you can enjoy skiing, snowboarding and tubing!
If you're visiting in the summer you have the option to take boat rides from their marina, ride bikes along the mountain trails, along with so many other activities. Let's just say I'm definitely going to try and go back during the warmer months. Make sure not to miss the free Live Entertainment on Fridays and Saturdays from 8:00 pm – 10:30 pm at the lounge in the Cranberry Golf Resort!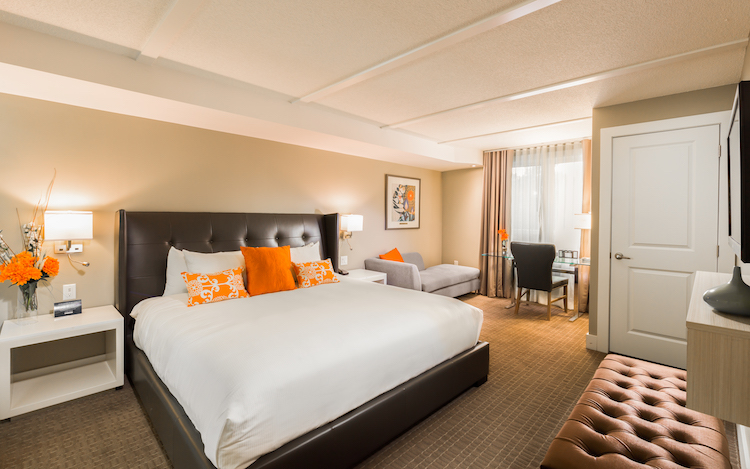 Adam and I were treated to a one bedroom suite which blew both our minds. The room had a king bed, two TV's, sofa/lounging area, huge dining table, full kitchen with everything you'd need like a microwave, oven, blender, coffee machine, cups, utilities and much more. You definitely would not have to worry about packing anything kitchen related – there was even a huge oval roaster pan.
Even for the two of us, this room was perfect. Adam tends to sleep in more so having the bedroom separate allowed me to get up early and not bother him. I got to get up when I wanted, make a cup of coffee in my PJs, watch some episodes of 4 Weddings (I love cheesy TV) all while having a view of Georgian Bay. If that's not the perfect way to wake up on a Saturday then I don't know what is.
Room photos courtesy of www.livingwaterresort.com
What to Do
In Collingwood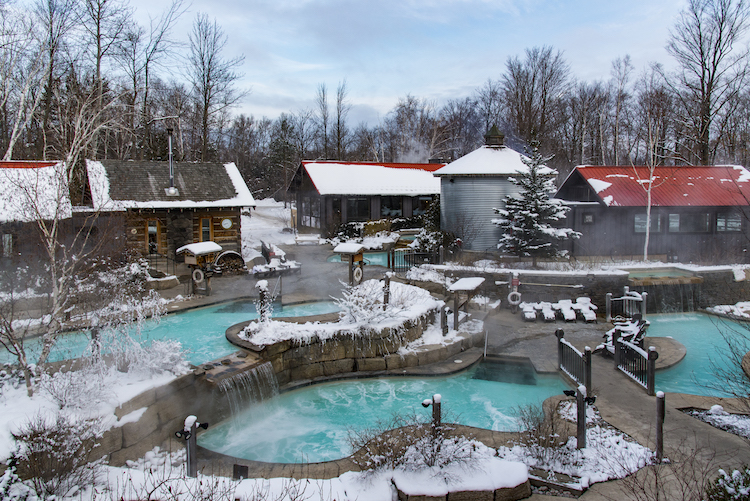 I'm sure you already know this but one of the best things to do in the Collingwood area is to visit the Scandinave Spa. Just recently they added a new 1500 square foot building that offers an infrared sauna, relaxation solaria, and a large deck off the back which overlooks one of their reflective ponds. The benefits of adding the sauna to your Scandinave Spa Bath Circuit is that they help to pull out toxins deep under your skin to strengthen your immune system and increase your white blood cell count. Especially during the colder months anything I can do that helps my immune system gets an A+ in my books.
Last time we visited the Scandinave Spa we went during the day which was beautiful as it was warmer out. This allowed us to take full advantage of the outside hammocks, relaxation areas and more. However, this time since we came up a Friday after work we didn't get to the Spa until around 6 pm and obviously dark. I wasn't sure what to expect but I actually enjoyed it more. With the snow falling, the Blue Moutain Hills lighting up in the back, it added that extra little touch of relaxation.
Stay at the Hotel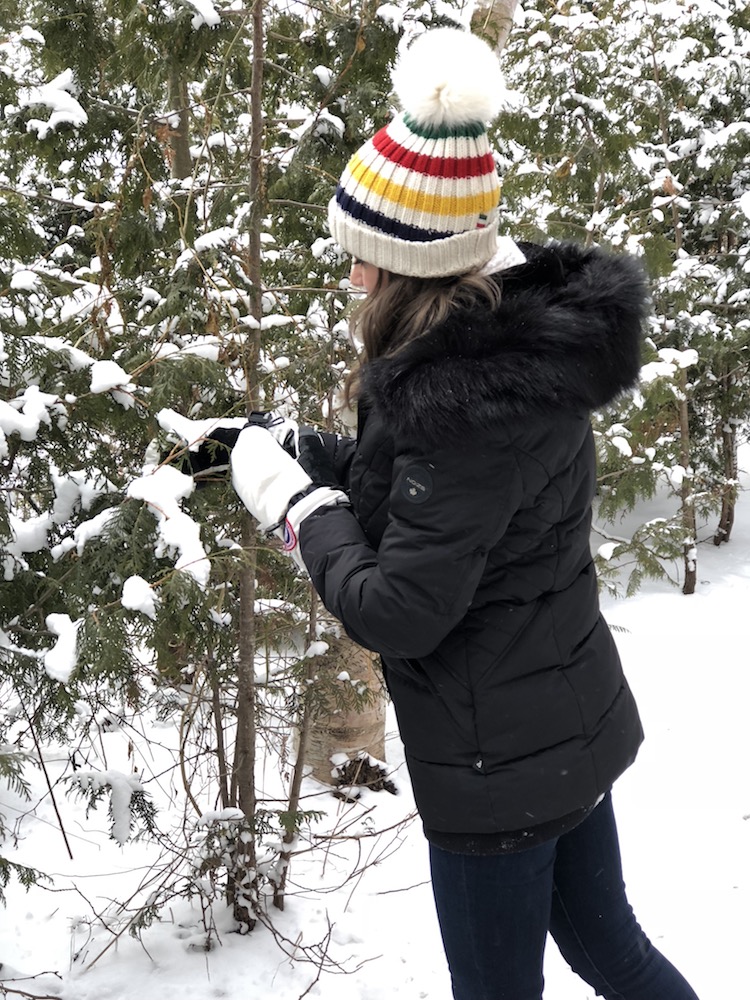 As mentioned about the Cranberry Village, they offer a variety of activities for the whole family. During our stay, Adam and I headed out to the trails behind the Cranberry Golf Resort. Just behind the resort is the Recreation Centre which offers rentals for snowshoeing and cross-country skiing. There is also a ping-pong table, books/games, arcade games, kids room, fireplace and couches for relaxation. Not to mention a beautiful view. In the summer there's also a tennis court and a pool.
Where to Eat/Drink
Lakeside Seafood & Grill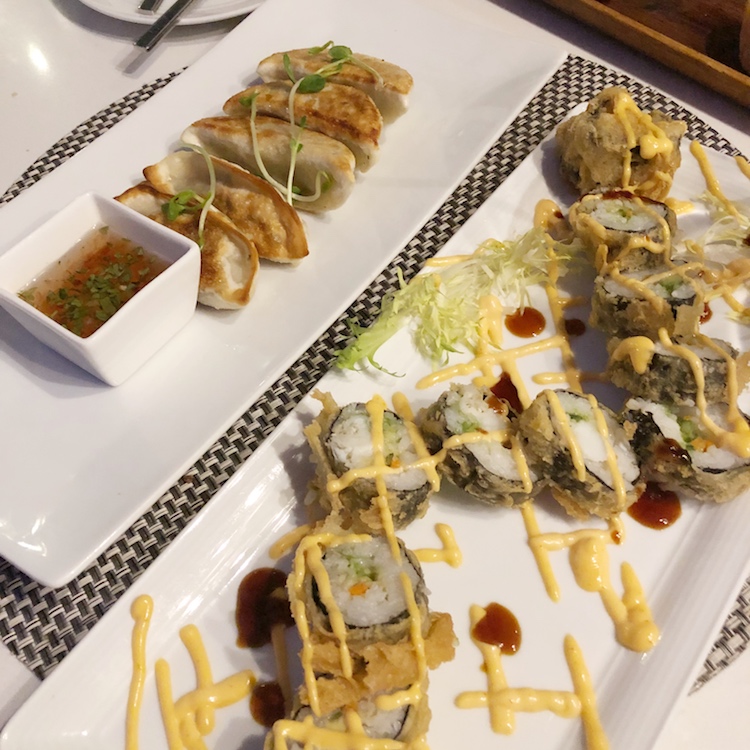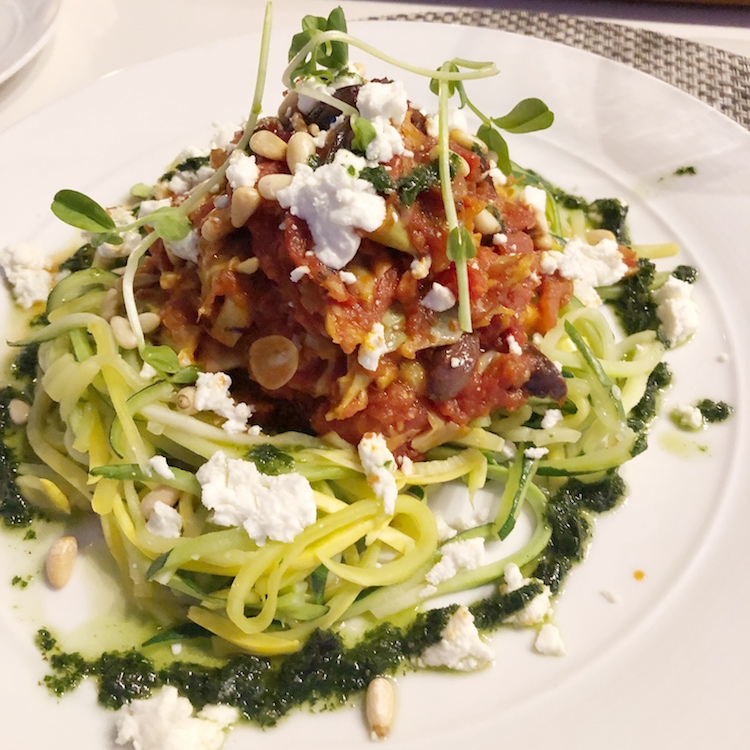 We arrived late Friday night and headed straight to the Lakeside Seafood & Grill for dinner. This stunning restaurant is the only waterfront dining facility in the Collingwood and Blue Mountain area. Since it was winter time, we weren't able to sit outside on the patio. However, did have a spot right by the window, giving us beautiful views of the water.
The menu offers a wide selection that no matter what you're dietary restrictions are you'll be able to find something. I started my meal with the Edamame Dumplings which were probably one of the best things I've ever had! Adam opted for the Fried Maki Rolls which I also recommend. Both of these appetizers are the perfect size to share with someone.
The main course was a hard decision. I was deciding between the Salmon and the Zucchini Pasta. In the end, I opted for the pasta and it did not disappoint. Full of vegetables and a homemade sauce it was hard to put the fork down.
Adam went for the Seafood Gnocchi which is made in-house. With Alaskan king crab, prawn, scallop, sweet peas and a tarragon cream sauce, it was a no-brainer for him.
Memories Restaurant
Memories Restaurant is located near the lobby of the Cranberry Golf Resort and is newly renovated. We were treated to the buffet breakfast which allowed us to try a little bit of everything. We both started off with a cup of coffee and then headed straight to the omelette making station. I get so excited when I see these at buffet-style breakfasts. Shoutout to the chef making these as she was keeping track of 4 at once – very impressive. Also available for breakfast were pancakes, bacon, potatoes, cereal, yoghurt and more!
Side Launch Brewery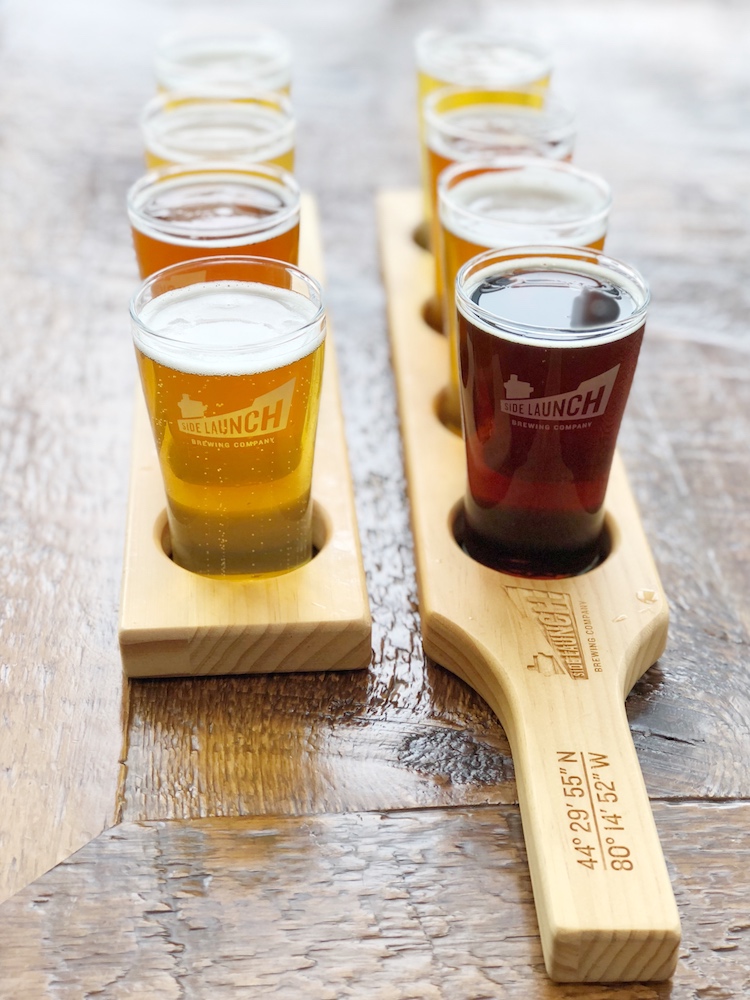 Love beer? Me too! Every time we head to Collingwood, Adam and I visit Side Launch Brewery. It seems to have become a tradition. You pretty much drive right past it when heading into town so it's a must visit! While they don't offer food, they do sell flights of beer. You can pick from a range of their popular beers as well as seasonals. If you don't feel like sitting down, you can always pick up a few cans for later. They also offer tours of the brewery.