These harsh winters have been taking quite a toll on my skin and I have been noticing a lot more dryness and more blemishes popping up since there is a lack on Vitamin D. I know some people go tanning to help with blemishes during these months but I have been trying to stay away from tanning booths to protect my skin in the long run.  So with that said you can imagine how
happy I was to be able to test out L'OCCITANE's new 4 week DIVINE Renewal Program that is designed to work with your skin's natural rhythms, to enhance its natural ability to regenerate. The DIVINE Renewal Program is a 4 week skin treatment that is probably going to be the easiest thing you've ever done. The four weeks are clearly layered out and numbered in separate packages to be used over the period of 28 days.
Week 1: Gentle Exfoliation
Helps the skin to rid itself of pore-clogging dead cells. Pistacia lentiscus essential oil acts as a gentle exfoliator by encouraging the natural shedding process.
Week 2: Hydration, Nutrition
Helps to strengthen new cells. Four plant oils, combined with cistus essential  oil, help nourish and moisturize the skin.
Week 3: Balance
Contributes to the well-being of the skin, to prepare it for the youthful-skin benefits of the final step. Myrtle and rosemary essential oils with rebalancing properties contribute to the overall well-being of the skin.
Week 4: Renewal
Gives radiance and plumpness to the skin. The combination of carrot, cypress and immortelle essential oils provides a global solution to the signs of aging.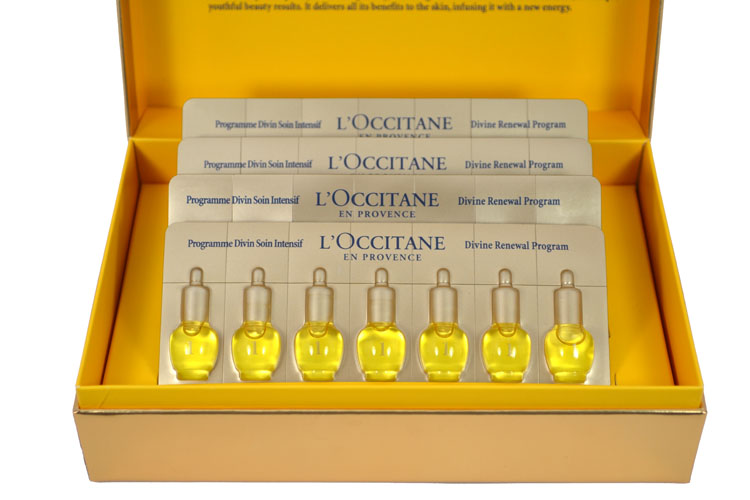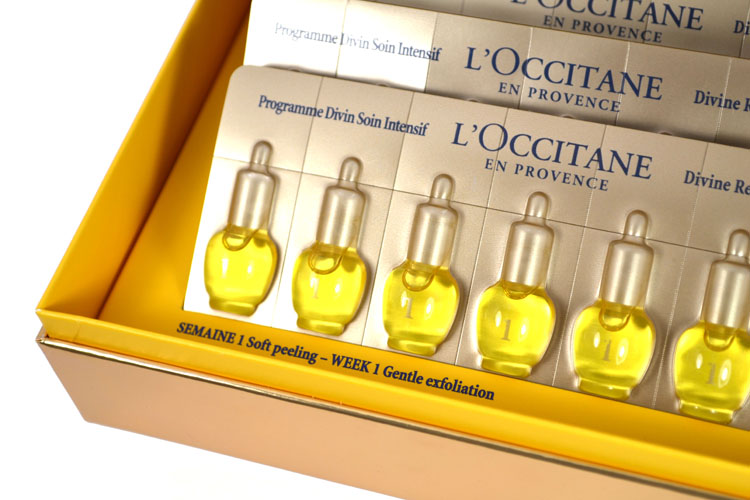 I will trying out the L'OCCITANE DIVINE Renewal Program over the next 4 weeks so be sure to keep checking back to this post as I will do my best to do weekly updates of my thoughts of the product and how it is working for my skin.
Availability: L'OCCITANE DIVINE Renewal Program is available as of March 1st, 2015 at all L'OCCITANE boutiques across Canada.
Price: 28 x 1ML, $128.00